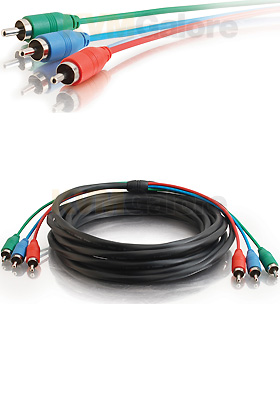 CMP-Rated Plenum Jackets; Low Profile RCA Connectors and Small Cable Diameters Enable Easier In-Wall Installations.
Audio/video installations in educational and commercial settings often require plenum-rated cabling. Cables To Go's plenum-rated line was engineered to overcome common challenges faced by installers.
Low-profile connectors (1.5-inch total depth) save valuable space in electrical boxes, and enable easier in-wall connections. Cables To Go's small-diameter (0.25-inch) cable design further reduces the space and clearance required to run the necessary cabling through walls and plenum air spaces.
Theses cables are constructed from three 75 Ohm coaxial cables using 26 AWG center conductors and featuring a tinned copper braid that provides 92% over foil shield. CMP rating provides the fire protection required to run within walls and air plenums without the need for conduit.
These cables may be used in classrooms, houses of worship, places of gathering, etc. wherever plenum cables are necessary, and to connect component video signals. For example, connecting component video out to a DVD player, satellite/cable box into component video of a projector or a large screen monitor.