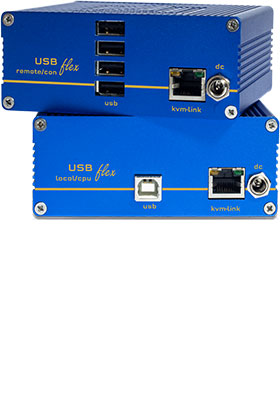 Buy this item and earn 544

Club

Points.
UB1-SET: USB 2.0 extension/switching system
over a single CAT-5/6/7 cable or over Ethernet network for extended distance and USB 2.0 switching & matrix configuration - includes Local and Remote units
---
USBflex is an active USB 2.0 extender that covers a range of 492 feet. Optionally, you may connect the local (CPU) and remote (CON) units to a 1GB Ethernet network switch, which will in turn support a total point-to-point extension distance of 984 feet (300m).
USBflex can be used for point-to-point connection, or with a dedicated 1GB Ethernet network switch to create one-to-many or many-to-one configurations, or even a complete many-to-many USB 2.0 matrix switching system supporting up to 1000 endpoints with the included switching manager software - switch up @ work - for intuitive switching management.
The transparent USB 2.0 interface features full USB emulation and USB-peripheral sharing, supporting keyboard, mouse, tablets and touch screens, sound modules, printers, smartcard readers, serial adapters and more.
USB save, kvm-tec's security feature prevents the intrusion of computer viruses via the transparent USB interface by disabling mass storage devices support such as USB sticks and external hard disk drives. The optional USB 2.0 memory option (purchased separately) reverses USB save, and supports USB memory sticks and USB hard drives. When enabled, this option allows the use of a USB memory stick or a USB hard drive for transferring data.
USBflex features embedded sound and is compatible with standard network components.
USBflex comes in ultra slim boxes that save space in a rack - four (4) boxes can fit side-by-side in 1RU.
USBflex is also suitable for 24V systems.
A low cost, 3-year extended warranty is also available for a total warranty coverage of five years.
Features and Benefits
• USB 2.0 extension over CATx
• 492 feet point-to-point extension distance
• Embedded sound
• USB transmission rate max 480Mbit/s
• Firmware flash upgrade without cable
• 4 USBflex units fit in 1 RU
• Automatic Plug & Play installation
• 2 year warranty, extension up to 5 years available
Package Includes
1x UB1 Local (CPU) unit
1x UB1 Remote (CON) unit
2x Wall power supply units l 12V 1A
1x USB Type-A to Type-B cable (5.9 feet)
8x Rubber feet