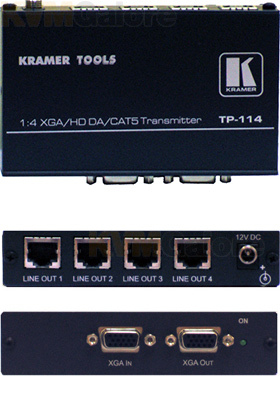 Computer graphics video distribution amplifiers, receivers and transceivers
splitting and extending VGA (1920x1200) and HD (1080p) up to 320 feet over twisted pair CATx
---
Kramer's VGA Splitters-Extenders are high-performance distribution amplifiers for computer graphics video signals and HDTV signals with resolutions up to WUXGA (1920x1200) and 1080p HD.
The transmitters convert a computer graphics video or HDTV signal on a 15-pin HD connector to two (2), four (4) or ten (10) identical twisted pair signals, with optional local video output ports.
The receivers converts a twisted pair signal back into one (1), or two (2) or five (5) identical video signals in the original format.
The transceiver takes a twisted pair signal and converts it into two (2) computer graphics or HDTV signal outputs on two 15-pin HD, and simultaneously re-transmits the original twisted pair signal to another compatible receiver.
The line driver takes a twisted pair input and distributes it to two identical twisted pair outputs.
TP-102HD: 2-port transmitter; 320 feet
TP-104HD: 4-port transmitter; 320 feet
TP-112HD: 2-port transmitter; 1080p; 320 feet
TP-114: 4-port transmitter; 1080p; local output; 320 feet
TP-202: 2-port transceiver ; 1080p; 320 feet
TP-210: 10-port transmitter; 320 feet