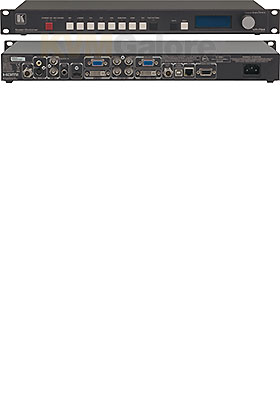 Buy this item and earn 6,956

Club

Points.
8-input, 3-output universal live-event scaler/switcher/blend and warp
for projection and LED video walls
---
Looking for a better price? Write to us or call us at 1-800-636-3434 and ask for our special offer.
---
VP-794 is a high-performance switcher/scaler/scan converter for analog and digital video signals developed specifically for driving large screen displays and multiple screen applications from video or graphics sources.
It up- or down-scales the incoming signal, processes the image with HQV and flexible warping, geometry correction and professional grade edge blending and outputs the signal to 3G HD-SDI, DVI/HDMI, VGA and S/PDIF connectors.
VP-794 includes a special mode for driving LED video walls with pixel-accurate output image sizing.
VP-794 is multi-personality; it can be switched between LED, Projection or Scaler/Scan Converter modes, greatly appealing to rental and staging providers as it permits a single model to be held in an inventory.
VP-794 is based on Calibre UK's HQView architecture optimized for low latency scaling to arbitrary active image sizes. VP-794 features powerful dual-processor architecture with 16-bit professional-grade blend processing with de-gamma, post-warp blending for optimal blend and warp performance and curved screen warping. VP-794 can capture a live image for display as a still, for example a customer logo screen or backdrop. Unlike other scalers available in the market, VP-794 can scale, warp and blend this captured image, which is a valuable benefit for LED & Projection displays.
Offering the industry's best image calibration and flexibility, VP-794 offers per input channel RGB, Bri/Con/Saturation/Hue controls, including on digital and computer graphics inputs. This is an important feature for color matching images and displays on-set.
VP-794 video inputs include HDMI, DVI, VGA, Component, Composite, YC/SVideo and 3G-SDI inputs and Separate Genlock. Audio pass-through and de-embed is achieved from 3G-SDI & HDMI to 3G-SDI, HDMI & SPDIF.
VP-794 has a Built-in Test Pattern Generator including SMPTE Bars, Pluge, Aspect Ratio Test, Greyscale as well as custom downloadable test patterns that are accessible via web browser interface. With ease of use in mind, the rack-mountable VP-794 has front panel LCD menu with a jog-shuttle wheel for fast setup.
Remote control over a network takes advantage of an inbuilt web-server.
Designed with the application in mind In projection environments, VP-794 can be used for scaling, edge blending, warping, geometry correction and color correction.
For use with flat panel displays, VP-794 performs outstanding scaling and switching, scan conversion, rotation, portrait mode and color correction.
For video wall display, VP-794 performs vital functions such as down-scaling, pixel accurate sizing, arbitrary image size and color correction. VP-794 has a dedicated LED video-wall processing mode with ultra-easy to configure output window sizing using 'drag and drop' and automatic pan/tilt/zoom adjusting to the fit LED video-wall, which remains correct even if the input resolution or channel is changed.
Applications
• Professional AV
• Broadcast
• Corporate AV
• Live events
• Rental/staging
• Premium fixed installs
Features and Benefits
• Optimized Operating Modes - For LED video walls, or soft edge-blend and warp for projection, or scan conversion/scaling for general purpose scaler/switcher use.
• Multi-Format Operation - 3G HD-SDI, HDMI, DVI, computer graphics, component, composite and s-Video inputs for signals up 1080p & WUXGA.
• Full Warp Mapping - Easy warp map creation for stacked projector alignment and curved screen multi-projector tiling via an included PC application.
• Powerful Geometry Correction - For off-axis projection, pin/barrel and image rotation, pan, tilt and zoom.
• Edge Blending - 4-sided professional grade edge blend with 48-bit processing, degamma & multi-region black level correction.
• HQV® Video Processing - HQV (Hollywood Quality Video) processing represents the state-of-the-art in video processing technology, with the highest quality de-interlacing (with 3:2 & 2:2 pull down), 4D motion adaptive SD noise reduction and outstanding scaling performance for both standard-definition and high-definition signals.
• HDTV Compatible.
• HDCP Compliant.
• Supported Resolutions - HD 720p, 1080i, 1080psf (psf digital only), 1080p23.97/24/25/30, 1080p30, 1080p50, 1080p59.94, 1080p60; ED 480p, 576p (not via SDI); SD 625i (576i), 525i (480i); common VESA graphics formats from 640x480 to 1920x1200 (with reduced blanking for 1920x1200 and 1600x1200 modes).
• Genlock (V-Lock) - Accepts bi-level, tri-level sync or black & burst.
• Selectable Lock Modes - Genlock (V-Lock), I/O lock or frame rate conversion.
• HDMI Support - Deep color up to 12 bit.
• Multi-Standard Support - For CVBS & YC in PAL, NTSC, SECAM formats with selectable 3D comb for composite.
• Superior De-interlacing - Motion adaptive per pixel video de-interlacing with multi-directional diagonal de-interlace filter reduces HD & SD image flicker and artifacts.
• Live Image Capture - Logo/still/backdrop capture with full scale warp/blend of the captured image, 4 memories.
• Selectable Processing Versus Latency - Best picture and low latency modes; latency as low as 0.25-frame progressive inputs, 1.25-field interlaced inputs.
• Selectable Aspect Ratio Conversion - Or incoming aspect ratio preserve mode.
• Built-in Time Base Corrector - Stabilizes unstable video sources.
• Flexible Colour Calibration Controls - RGB Gains, RGB Cut-Off/Black Level, Saturation, Hue, Brightness, Contrast controls, Gamma selection with separate calibration memories per input channel.
• Audio De-embedding - From HDMI & 3G HS-SDI to S/PDIF compatible formats.
• Built-in Test Pattern Generator.
• USB Port - For software updates.
• Non-Voltatile Memory - Auto-saves and recalls settings.
• Flexible Control Options - Front panel buttons, jog wheel and LCD menu display, RS-232, TCP/IP API and Web Server, PC-based Warp Map Generator tool.
• Standard 19" Rack Mount Size - 1U.
• Setting Backup - Save complete system config to disk via web browser interface to clone or restore units.
• Front Panel Lockout.
• Picture In Picture - In LED and scaler modes with flexible pixel-accurate PIP sizing.