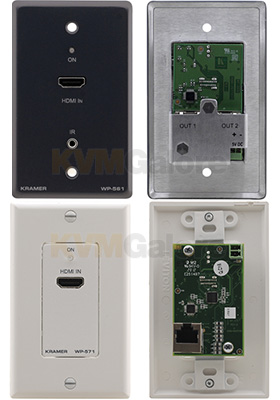 HDCP compliant active HDMI and optional bidirectional infrared (IR) wall-plate extenders
over shielded twisted pair (STP) for 295 feet extension with EDID pass-thru
---
DGKat™ twisted pair transmitters and receivers for HDMI and optional IR signals. The transmitters convert an HDMI and optional IR signal to a twisted pair signal and the receiver units (purchased separately) convert the twisted pair signal back to an HDMI and IR signal.
System Range - Up to 295 feet at 1080i, or up to 98 feet at 1080p using shielded twisted pair (STP) cable.
With max. data rate of 4.95Gbps (1.65Gbps per graphic channel), these extenders are HDCP compliant, supporting HDMI uncompressed audio channels, Dolby TrueHD and DTS−HD, with EDID pass-thru from source to display and Power Connect™ which supports a single connection to the transmitter powers the receiver.
WP-571: Transmitter units
WP-572: Receiver units