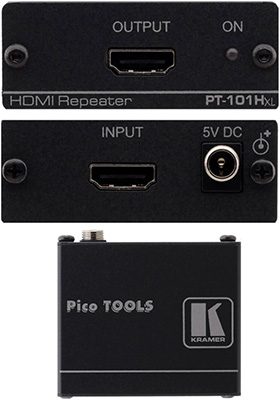 Buy this item and earn 188

Club

Points.
HDMI repeater
Quick Facts
• Max. Data Rate - 6.75Gbps (2.25Gbps per graphic channel)
• Size - Pico TOOLS™: Mount 4 units side-by-side in a 1U rack space with the optional RK-4PT rack adapter
• Audio - E
PT-101Hxl is a line driver/repeater for HDMI video signals. The unit reclocks and equalizes the signal enabling multiple units to be cascaded.
PT-101Hxl is a high-quality repeater for HDMI signals that connects between an HDMI source and an HDMI display. For 1080p resolution, it extends the transmission range up to 50 feet. The unit extends the range when using long HDMI cables.
PT-101Hxl is ideal for ProAV, multimedia and home cinema applications. The user-friendly, easy to install, matchbox-sized device extends the HDMI transmission length by reclocking and regenerating the HDMI signal before it sends the output to the HDMI display or projector.
PT-101Hxl extends the HDMI cable distance between the HDMI player and the HDMI TV set.
By placing your PT-101Hxl in the transmission path, it removes dropout and digital noise (sparkles) in your picture that may result from using long HDMI cables. In addition, the PT-101Hxl:
Provides a method of transmitting 1080p signals at a distance of up to 50 feet from the source to the display
Maintains an HDMI single link video resolution of up to 1080p
Supports the DDWG standard for HDMI compliant displays
Complies with HDCP 1.4 and supports HDMI 1.4

Features and Benefits
• Max. Data Rate - 6.75Gbps (2.25Gbps per graphic channel)
• HDTV compatibility
• HDMI and HDCP compliance
• Kramer Equalization & re-Klocking™ technology that rebuilds the digital signal to travel longer distances
• HDMI Support - Deep Color, x.v.Color™, Lip Sync, HDMI uncompressed audio channels, Dolby TrueHD, DTS-HD, CEC
• 3D pass-through
• EDID PassThru - Passes EDID signals between the source and display
• Range extension - Extends the HDMI range (resolution dependent) to 50 feet for 1080p signals
• Power options - AC adapter (recommended for best performance) or via HDMI signal
• Ultra-compact Pico TOOLS™ - 4 units can be rack mounted side-by-side in a 1U rack space with the optional RK-4PT rack adapter