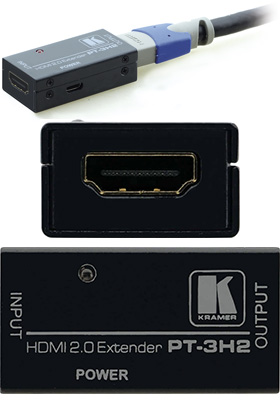 HDMI Repeaters
Equalizer and line drivers/repeaters/extenders for HDMI signals, reclocking, regenerating and extending the range for longer cable runs
Read more below...

HDMI repeaters
Equalizers and line drivers for HDMI signals. HDMI repeaters extend the range when using long HDMI cables.
HDMI repeaters are ideal for ProAV, multimedia and home cinema applications. The user-friendly, easy to install, matchbox-sized devices extend the HDMI transmission length by reclocking and regenerating the HDMI signal before it sends the output to the HDMI display or projector.
HDMI repeaters extend the HDMI cable distance between the HDMI player and the HDMI TV set.
PT-101Hxl: 1080p resolution; 50 feet
PT-3H2: 4K Ultra-HD resolution; 65 feet