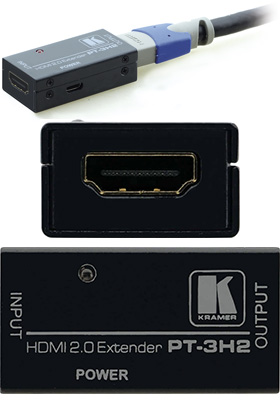 Buy this item and earn 76

Club

Points.
4K Ultra-HD HDMI 2.0 repeater
Quick Facts
Max. Resolution - Up to 4K @ 60Hz (4:4:4) Ultra-HD
Range - Up to 65 feet for 4K @ 60 (4:4:4); up to 150 feet for 1080p60
Audio - E
PT-3H2 is a 4K Ultra-HD equalizer and line driver for HDMI signals. The unit extends the range when using long HDMI cables.
PT-3H2 is ideal for ProAV, multimedia and home cinema applications. The user-friendly, easy to install, matchbox-sized device extends the HDMI transmission length by reclocking and regenerating the HDMI signal before it sends the output to the HDMI display or projector.
PT-3H2 extends the HDMI cable distance between the HDMI player and the HDMI TV set.
By placing your PT-3H2 in the transmission path, it removes dropout and digital noise (sparkles) in your picture that may result from using long HDMI cables. In addition, the PT-3H2:
Provides a method of transmitting 4K @ 60Hz (4:4:4) signals at a distance of up to 65.6 feet from the source (32.8 feet from the source to the PT-3H2, and 32.8 feet from the PT-3H2 to the display)
Maintains an HDMI single link video resolution of up to 4K @ 60Hz (4:4:4) Ultra-HD
Supports the DDWG standard for HDMI compliant displays
Complies with HDCP 1.4 and HDCP 2.2 and supports HDMI 1.4 and HDMI 2.0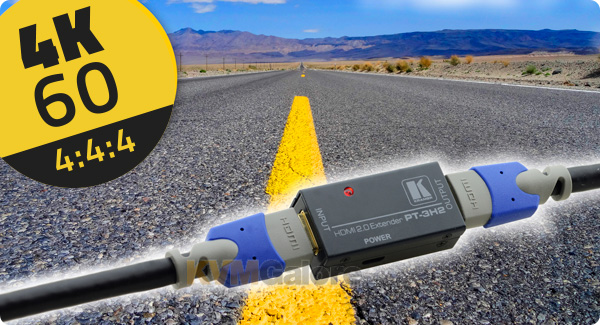 Features and Benefits
• Max. Resolution - Up to 4K @ 60Hz (4:4:4) Ultra-HD
• HDTV compatible
• HDCP 2.2 and HDMI 2.0 compliant
• Range - 32.8 feet to input, 32.8 feet from output, total 65.6 feet (65 feet) at 4K @ 60Hz (4:4:4); 25m to input, 15m from output, total 40m (130 feet) at 4K @ 60Hz (4:2:0); 30m to input, 15m from • output, total 45m (150 feet) at 1080p60
• External power supply option