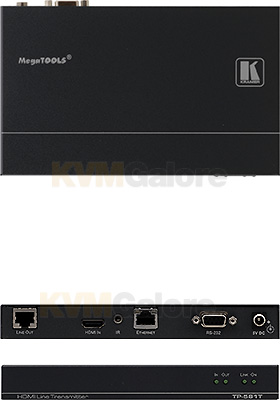 Buy this item and earn 476

Club

Points.
HDMI, bidirectional RS-232, Ethernet and IR over HDBaseT twisted pair transmitter
up to 430 feet
---
Note: Receiver unit is purchased separately
Quick Facts
• HDBaseT technology
• Requires shielded twisted-pair cable
• Max. Data Rate - 6.75Gbps (2.25Gbps per graphic channel)
• HDCP compliant
• 3D pass-through
• Size - MegaTOOLS® - Mount 2 units side-by-side in a 1U rack space with the optional RK-T2B rack adapter
• Audio - E
TP-581T is a high-quality HDBaseT twisted pair transmitter for HDMI, Ethernet 100BaseT, bidirectional RS-232 and IR signals.
TP-581T takes the HDMI input, and converts it with the Ethernet 100BaseT, RS-232 and IR input signals to an HDBaseT twisted pair signal.
TP-582R receiver (purchased separately) converts the HDBaseT twisted pair signal back to Ethernet 100BaseT, RS-232, IR and two HDMI outputs, and de-embeds the audio to S/PDIF and TOSLink® audio outputs.
Applications
Home theater, presentation and multimedia applications, rental and staging.
Features and Benefits
• Max. Data Rate - 6.75Gbps (2.25Gbps per graphic channel).
• HDBaseT Technology.
• HDTV Compatible.
• HDCP Compliance.
• HDMI Support - Deep Color, x.v.Color™, Lip Sync, HDMI Uncompressed Audio Channels, Dolby TrueHD, DTS-HD, CEC.
• 3D Pass-Through.
• EDID PassThru - Passes EDID signals between the source and display.
• Bidirectional RS-232 Interface - Commands and data can flow in both directions via the RS-232 interface, allowing status requests and control of the destination unit.
• Ethernet Interface - Passes 100BaseT.
• System Range - Signals of up to 6.75Gbps (up to 1080p @ 60Hz 36–bit) over a range of up to 130m (430 feet) when using BC–UNIKat cables.
• Cable - Requires shielded twisted pair (STP) cable. For optimum range and performance use, use Kramer's BC-DGKat524, BC-DGKat623 and BC-DGKat7a23 cables.
• Control - Front panel.
• Indicators - Status LEDs for input selection, output, link and power.
• Compact MegaTOOLS® - 2 units can be rack mounted side-by-side in a 1U rack space with the optional RK-T2B universal rack adapter.
Note: The transmission range depends on the signal resolution, graphics card and display used. The distance using non-Kramer CAT 5, CAT 6, and CAT 7 cables may not reach these ranges. Use only shielded cable where both ends of the shield are soldered to ground.