Buy this item and earn 224

Club

Points.
GW3DHDKIT: Wirelessly stream your HD 1080p content to your HDTV with 3D support
with a built-in 2-port HDMI switch, it sends two HD sources to one local screen (wired) and one remote screen (wirelessly), supporting remote switching
---
Wireless Video Through Walls, Doors and Ceilings - No Latency
Create a completely customized setup in minutes, and wirelessly transmit your favorite movies, sports and videos within the home, through walls, doors and ceilings.
IOGEAR's innovative Wireless 3D Digital Kit takes wireless home entertainment and multi-room enjoyment to the next level of connectivity, flexibility, convenience, and decor.
It's capable of streaming uncompressed Full HD 1080p with support for the latest 3D movie content along with 5.1 digital surround sound audio up to 100 feet* away within the home, through walls and ceilings, with no latency.
Multi-Room Configuration
The ability to set up your living room HDTV and add an additional room wirelessly; like your bedroom, den, loft or kitchen. Set up 2 HDTVs environments in minutes, if you have access to a power outlet then you can place your HDTV there and receive your favorite HD TV shows or 3D movies wirelessly.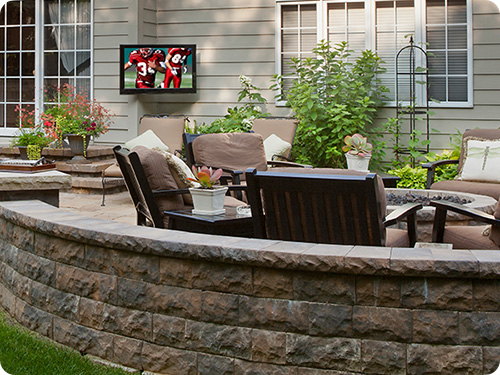 The Wireless 3D Digital Kit does not require a line-of-sight placement, keeping home theater devices neatly out of sight, which enables a quick, simple, and flexible wireless audio/video solution.
Hang Your TV Anywhere without Wires
Ever wanted to hang your TV above the fireplace, or on the living room wall, but dreaded the idea of exposed wires or added construction? The Wireless HD Digital Kit is the ideal solution, as it allows you to "cut the cord" and keep your devices out of sight. The configuration possibilities and usage for this solution are endless: setup your A/V equipment in a media closet and transmit wirelessly to your HDTVs in the living room, patio, garage or just about anywhere in your house.
Control your Devices from Another Room (Infrared Pass-through)
Use the remotes from your video devices to control your DVD / Blu-ray players, DVR / Cable boxes, A/V receivers and media streaming devices such as Apple® TV and control them from wherever you're watching, with the IR pass-through feature. You can hide your equipment in one location, while controlling them as if they were in the same room.
What's in the Box?
The kit consists of a wireless video transmitter supporting 5.1 digital surround sound audio and a wireless audio/video receiver with connections for your HDMI® enabled devices.
The receiver can be powered from an AC adapter or from a USB port directly out of the TV- this way you can hide the receiver behind the TV without having to plug it into a wall outlet.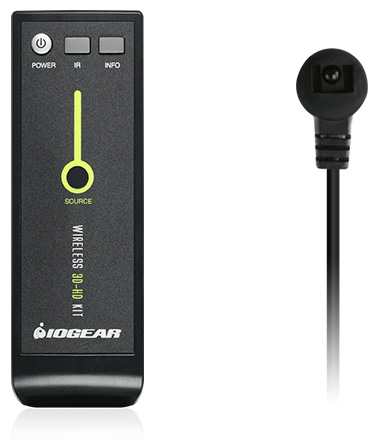 Features and Benefits
• Wireless uncompressed 3D & HD audio/video streaming up to 100 ft.* away through standard home walls
• Multi-room - Share your HD or 3D contentin asecond location at the same time:
Living room HDTV can connect to transmitters loop-through (local) port directly
Bedroom HDTV can receive content from wireless receiver
• Connect and wirelessly transmit content from your 3D / Blu-ray / DVD player and DVR / Set-top box
• Wireless 3D support
• Wireless uncompressed Full HD 1080p and 5.1 channel digital audio
• Video Resolutions: 480p, 720p, 1080i and 1080p (24 / 30 / 60fps)
• Create the floating HDTV in almost any location such as bedroom, family room, living room, den, loft or kitchen
• Keep home theater electronic devices neatly out-of-sight
• Built-in IR allows the user control over their source devices that are hidden away in a different location
• No software or driver installation needed
• HDCP Compliant
• Based on WHDI™ Technology
• Warranty: 1-Year
Package Content
1x Wireless 3D Transmitter
1x Wireless 3D Receiver
1x Remote Control
1x IR Blaster Cable
2x Power Adapter
2x Battery (AAA)
1x HDMI Cable
1x Quick Start Guide
1x Warranty / Registration Card
* Distances may vary depending on environment; solid objects such as steel, concrete and brick may view shorter distances.