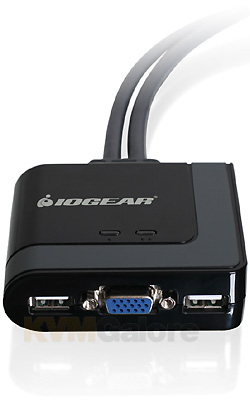 Buy this item and earn 70

Club

Points.
GCS642U: 2-port USB KVMA/KVMP switch
with file transfer capability and built-in bonded cable design
---
IOGEAR 2-Port USB Cable KVM with File Transfer allows you to share a VGA monitor, a USB mouse, a USB keyboard, a set of powered speakers and a microphone between two computers. You can switch between computers easily using Hot Keys or your mouse.
GCS642U also offers gaming keyboard support, and video Dynasync technology which provides EDID support for Windows 7. It supports resolution for up to 2048 x 1536.
By connecting a powered USB hub to the mouse port, you can also share other USB peripheral devices among the two computers, such as printer, portable hard drives, etc.
In addition, the GCS642U also offers file transfer between the two Windows based system. It allows you to drag and drop files between the two computers via the file management software.
GC642U offers an out-of-box solution with no additional cables, power supply, or software needed - it's simple plug & play. It supports multiple operating systems including Windows, Sun, and Mac. It is the ideal KVM for those who want a competitively priced, yet feature rich KVM that will allows for multi-tasking between two computers.
Features and Benefits
• One USB keyboard, USB mouse, and VGA monitor controls two computers
• DynaSync - Reads and remembers the monitor's parameters to eliminate delay or change of video resolution when switching between, or booting computers*
• USB drag and drop file transfer capability for Windows based systems; sync files and folders
• Audio-enabled – full bass response with 2.1 surround sound
• Plug & Play monitor support
• Superior video quality: 2048 x 1536, DDC2B
• Supports multimedia keyboards and most gaming keyboards
• Computer selection with Hot Keys and USB mouse**
• Hot key selection for OS and keyboard language
• Supports multifunction mice
• Compact design, built-in-all-in-one cables
• Power on detection – automatically switches to the first computer powered on
• Mac / Sun keyboard support and emulation***
• No software driver required
• No power adapter required
• 3 Year Limited Warranty
Package Content
1 x 2 port USB KVM with File Transfer
1 x User Manual
1 x Warranty Card
Note: File management AP is supported by Windows OS only.
* IOGEAR's DynaSync provides the EDID support for Windows 7.
** Mouse port switching is only supported when using a USB 3-key wheel mouse.
*** PC keyboard combinations emulate Mac / Sun keyboards; Mac / Sun keyboards work only with their own computers.