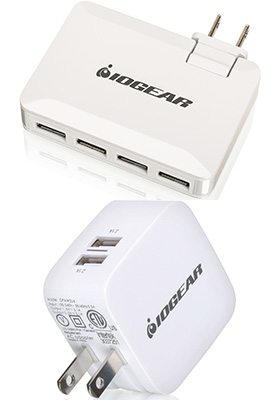 Charge two or four smartphones and tablets simultaneously with available 4.2 Amps and optional SmartPower microprocessor
that smartly balances the total output between the devices to maximize charging rate
---
Keep all of your mobile devices charged and ready to go while at home, the office or while travelling with GearPower wall chargers. GearPower wall chargers plug into any standard outlet and feature folding prongs for easy storage when not in use. Just connect your USB charging cables and simultaneously rapid-charge two or four smartphones or two tablets, including the Apple iPad®!
GearPower wall chargers quickly charge even the most power demanding mobile devices, including the Apple iPad®! In fact, iPad Mini® users will see an upgrade to their charging speed over the originally included charger and even charge a second device at the same time!
Compact and folding plug design is pocket sized and easily carried to work, school or when travelling, but still delivers a full 4.2A output without overheating.
GearPower wall charger USB charging outputs are configured to provide fast-charging with all current Apple products (charging cables sold separately), including all generations of iPad.