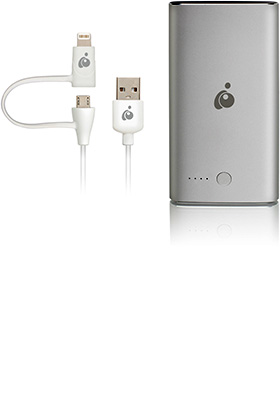 Buy this item and earn 45

Club

Points.
GMP10AL: 10,000mAH dual-USB portable, external battery charger with dual tip cable
for for Android and iOS smartphones and tablets
---

GearPower DuoLinq™ mobile power station is designed to keep you connected by keeping your mobile devices charged and ready whenever, wherever. With its 10,000mAh capacity battery, DuoLinq™ mobile power station packs enough juice to fully recharge devices such as the iPhone 6 more than 5 times* - so you can rest assured that your devices will never run out of power when you need it the most. Dual USB outputs (2.1A + 1A) allow users to simultaneously charge two devices at the same time. The 2.1A output port supports larger mobile devices such as tablets and the 1A output port supports smartphone, digital cameras, handheld gaming systems, etc.
Duolinq™ 2-in-1 Charging Cable
IOGEAR understands that with a multitude of mobile platforms available, people now have many different types and brands of mobile devices that they use simultaneously. This means that different charging cables are often needed between different mobile devices. With this in mind, IOGEAR's DuoLinq™ design creates a single charging cable that allows compatibility with most mobile devices.
This charging cable comes with two connectors instead of one: Micro USB and Lightning cable connectors. The Micro USB connector is used for Android, Windows and Blackberry devices, while the Lightning connector is compatible with Apple iOS devices. To charge iOS devices, simply snap on the attached Lightning connector adapter to the Micro USB connector and you're ready to go. To charge Android, Windows, or Blackberry devices, remove the Lighting connector adapter and simply plug in the Micro USB connector directly into your device.
Eliminate the need to carry two separate charging cables. DuoLinq™ charging cable's versatility is great for those who travel and often carry multiple devices with them.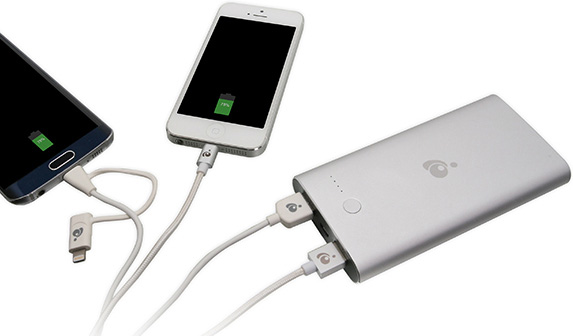 Stylish Design, Premium Finish
DuoLinq™ mobile power station combines style, functionality and design. The batter charger's clean and smooth lines provoke a sense of refinement. The all-aluminum casing looks and feels exceptional. The edges are rounded out to provide a better grip when holding DuoLinq™ mobile power station. Everything about the exterior design stands out from the rest.
Features and Benefits
• Dual USB outputs: simultaneous charge tablets, smartphones, cameras, and virtually any USB device
• Charging Powerhouse: the lithium ion cell provides a compact, yet gigantic capacity battery to keep up with your life on-the-go
• Fastest Charging Experience: Charge your device at the same rate as your wall charger and don't miss a moment!
• Highly Compatible: A versatility super-hero, GearPower is compatible with iPhone, Android and Windows devices
• 10,000mAh Lithium-Ion battery cell
• Number of iPhone 6 charges: 4
• Number of iPad Air Charges: 0.9
• Number of USB Charging Ports: 2
• Total Max Output: 3.1 Amps
• Included Cable Type: 2-in-1 Lightning cable
• Outputs: 2.1A + 1A
• Perfect for mobile users and business travelers when conventional A/C outlets are not available
• Dual USB outputs: 2.1A+1A allows simultaneous charging of tablets and smartphones
• 1.7A input allows user to fully charge the Power Station faster**
• Capable of charging almost all mobile devices including iPad®, iPhone®, iPod®, mobile gaming devices, etc.
• Includes DuoLinq™ charging cable compatible with most mobile devices
• Includes convenient carrying pouch
• Built-in short-circuit, over-charge, and temperature protection
• Premium aluminum casing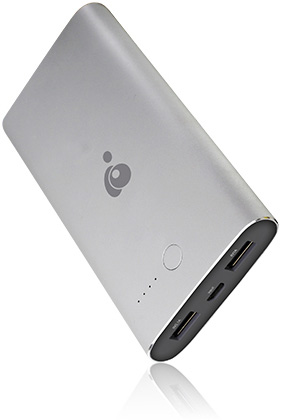 Package Content
1x 10,000mAh mobile power station
1x 2-in-1 DuoLinq Charging Cable (Lightning and Micro USB)
1x Carrying Pouch
1x Quick Start Guide
1x Warranty Card
* Number of recharges per device varies based on their battery capacity
** 1.7A output wall charger required