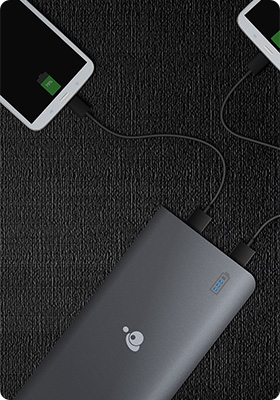 7,000 to 16,000mAh-capacity dual-USB portable, external battery chargers
for smartphones, tablets and USB devices
---
GearPower on the Go are charging powerhouses with their stylish design and ultra large capacity, packing up to 16,000mAh capacity. With dual USB ports, GearPower on the Go can charge two devices at the same time. GearPower on the Go are capable of fully recharging mobile devices such as the iPhone 6 more than eight times and the Samsung Galaxy Tab S more than two times. GearPower on the Go are the perfect for camping trips or travelers as a single charge can easily keep all your devices charged. You'll be surprised how seldom you actually have to charge this battery pack due to its immense capacity.

Charge Your USB Type-C Laptop
On top of keeping all your mobile devices charged and ready, GearPower on the Go can also charge your USB-C devices such as the new Macbook and PC laptops!
Combined with IOGEAR's USB-C to USB-A Charge and Sync Cable (G2LU3CAM01-WT), GearPower on the Go can act as an emergency backup battery for your USB-C enabled devices. GearPower on the Gois a perfect companion for both mobile and laptop devices.

Power When You Need it the Most
With today's busy lifestyle, we rely heavily on our mobile devices to keep us connected to the world around us. Whether it's taking the 20th business call of the day or making sure you have enough power to last your 12-hour transcontinental flight, today's 4G LTE services, mobile apps, and large screens consume a lot of power from your devices. The problem lies in trying to squeeze a full day's worth of power into such slim devices. IOGEAR's GearPower on the Go are a convenient solution to this problem. Whenever you're low on power, just simply connect your devices to GearPower on the Goand you're good to go.
Fast Charge and Recharge
Need power quick? GearPower on the Go comes equipped with a 2.4A output port that cuts your device charging time in half compared to the standard 1A output. This port is designed to fast-charge larger capacity devices such as tablets and laptops. When your GearPower on the Go is finally out of juice, the 2A input port charges the power station faster compared to the 1A input port seen on most mobile battery packs on the market today. This is just another way IOGEAR brings more value to our customers.