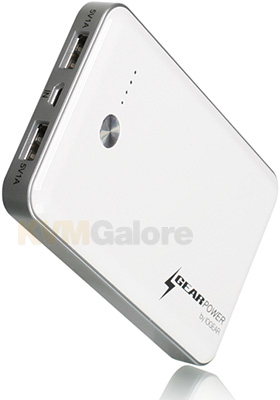 Buy this item and earn 26

Club

Points.
GMP7K: 7,000mAh-capacity dual-USB portable, external battery charger
for smartphones, tablets and USB devices
---
With USB outputs for two devices, 2.1A charging, and a huge 7,000mAh capcity you can give even your most power hungry devices a boost with this pocket sized package!
GMP7K serves both as a battery extender to your power hungry mobile devices, also a battery charger when conventional AC outlets are not available. It is compatible with most smartphones such as iPhones and Samsung Galaxy, tablets, handheld gaming systems, digital cameras, and MP3 players.
This stylish battery can go anywhere with you. Don't let power hungry apps keep you from using your smartphones or tablets to the max when conventional AC wall power is not available. Charge your tablet and smartphone at the same time with the dual charging USB ports.*
GearPower 7000mAh Capacity mobile power station is a must have for anyone with an iPad™, Galaxy Tab™, Kindle Fire HD, or other tablet device.
Power When You Need it the Most
With today's busy lifestyle, we rely heavily on our mobile devices to keep us connected to the world around us. Whether it's taking business calls all day or making sure you have enough power to last your 12-hour transcontinental flight, today's 4G LTE services, mobile apps, and large screens consume a lot of power from your devices. The problem lies in trying to squeeze a full day's worth of power into such slim devices. IOGEAR's GMP7K is a convenient solution to this problem. Whenever you're low on power, just simply connect your devices to GMP8K and you're good to go.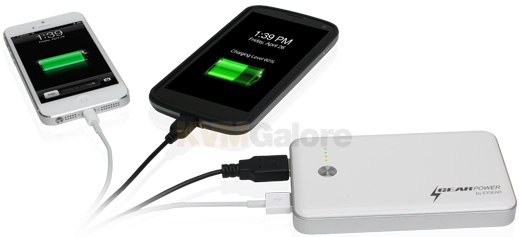 Features and Benefits
• 7,000mAh lithium polymer cell provides a compact, yet super high capacity battery
• Number of iPhone 6 charges: 2.7
• Number of iPad Air Charges: 0.65
• Number of USB Charging Ports: 2
• Total Max Output: 2.1 Amps
• Included Cable Type: USB A to Micro USB
• Outputs: 2.1A + 1A
• Provides fast, convenient charging of almost all mobile devices
• Perfect for mobile users and business travelers when conventional A/C outlets are not available
• Dual USB outputs allow simultaneous charging of devices
• 2.1A output capable of charging iPad, iPhone, iPod, mobile gaming devices, etc.
• Built-in short-circuit, over-charge, and temperature protection
• Includes Micro USB charging cable compatible with most smart phones
• Includes USB wall charger and convenient carry pouch
• 1-Year warranty
Package Content
1x 7,000mAh mobile power station
1x USB to Micro-USB Cable
1x USB to A/C Power Adapter
1x Protective Carry Pouch
1x Quick Start Guide
1x Warranty Card
* Number of recharges per device varies based on their battery capacity