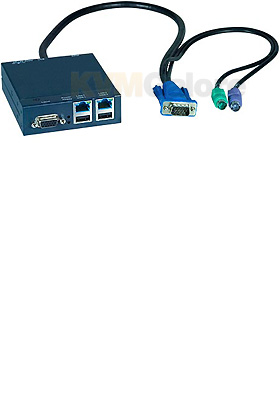 Buy this item and earn 514

Club

Points.
INTERMUX-KVMUIP: Remote Internet server access in a zero-U unit
Intermux™ KVM on IP™ device allows you to control one or many computers locally at the server site or remotely via the Internet using a standard browser.
You can securely gain BIOS level access to systems for maintenance, support, or failure recovery over the Internet.
Communication is secure and can be used in conjunction with a KVM switch for multiple-server access.
Features and Benefits
• Full KVM - Access systems during boot up, BIOS, and frozen OS conditions.
• Cost effective - Zero-U. KVM control "at the rack" or remotely over IP.
• Requires no client software. Secure, encrypted browser sessions with authentication.
• USB and PS/2 - local access and server interfaces support both USB and PS/2.
• Virtual media - Deliver patches/upgrades as if on-site.
• Serial port - Console access to switches, routers, PBXs or an external modem.
• Manage servers around the world.
• Remote KVM access over IP network or over a modem link.
• Local console port for direct analogous access to KVM switch.
• Dual LAN port for Remote Console and easy cascaded wiring.
• Dual USB port for Local Console.
• Remote mass storage control and redirection.
• Remote control using Java-enabled browsers.
• SSL Secure access through certificate authentication and data encryption.
• SSL 256-bit encryption of all transmitted data.
• RSA 1024-bit encryption.
• Auto-optimize the frame rate and video quality according to the bandwidth availability.
• Automatically senses video resolution for best possible screen capture.
• High-performance mouse tracking and synchronization.
• Works with most KVM switches.
• Firmware update via web interface.
• Embedded Linux Operating System
Package Includes
1x IP-KVM1001
1x USB Cable
1x Local PS/2 Adapter Pigtail
1x Serial Adapter Cable
1x Rack Mount Bracket
1x CD with User Manual and Setup Utility Application
1x AC power adapter
1x Quick Start Guide.