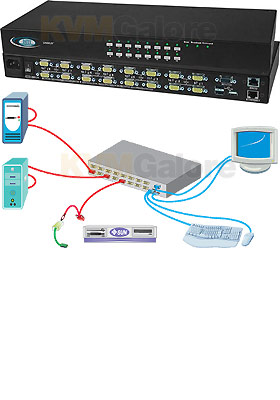 Control up to 32 USB/VGA Computers with One USB Keyboard/Mouse and VGA Monitor, with Optional Extra USB 2.0 Port for Touch-Screen, CAC Card Reader, or Interactive Whiteboard and Optional Extender-Port for Connecting a Remote User 300 feet Away via CAT-5.
The UNIMUX™ High Density VGA USB KVM switch allows a user to control up to 16 USB computers with one USB keyboard, USB mouse and VGA monitor.
Dedicated internal microprocessors emulate keyboard and mouse presence to each attached CPU 100% of the time so all computers boot error-free.