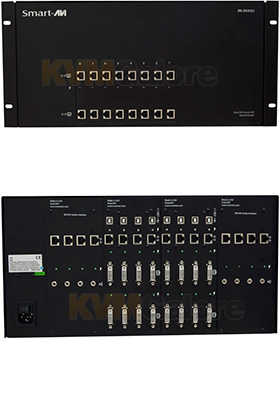 Buy this item and earn 3,524

Club

Points.
RK-DVX2U-A-RX8S: Powered rack-mount chassis with eight (8) receivers
each for two (2) DVI-D screens, stereo audio and USB 1.1, extended up to 225 feet using CAT-6 STP cables
---
RK-DVX2U-A receives an extended signal supporting two DVI-D screens, audio and USB 1.1 devices (per receiver) up to 225 feet away from a transmitter using CAT-6 STP cables, while retaining perfectly clear, crisp image (image resolution up to 1900 x 1200 at 60Hz) quality.
Each RK-DVX2U-A system consists of a powered rack-mount chassis populated with eight (8) receiver cards, located up to 225 feet away from the transmitters (purchased separately - see below). CAT-6 STP cables (not included) connect each transmitter to a receiver unit. Each receiver connects to the user's interface console (USB keyboard/mouse, USB peripherals and two DVI screens).
RK-DVX2U-A is ideal for extending dual DVI-D displays, audio and USB 1.1 devices to a remote location up to 225 feet away. It is the ideal way to consolidate up to 8 workstation computers into one location.
RK-DVX2U-A features dual DVI-D extension up to 225 feet over STP. It is fully compatible with Mac, PC and Linux DVI standards.
RK-DVX2U-A features transparent USB 1.1 signal extension, with full support for all USB 1.1 devices and an integrated 4-port hub in the receiver. Flash drives, printers, cameras, scanners, etc. may all be used with RK-DVX2U-A.
Applications
• Medical: In the medical field where sensitive electronic devices are used, isolating workstation computers can be a matter of safety. RK-DVX2U-A allows the workstation computers to be housed in a central location, away from sensitive devices.
• Industrial workspace: In industrial work areas that may be too harsh for a workstation computer, RK-DVX2U-A can consolidate the computers into a safe location.
• Digital signage: When it comes to Digital Signage, the RK-DVX2U is an excellent deployment option. With RK-DVX2U-A, up to 16 digital signage devices can be centralized and secured from public access.
• Information kiosks: As with most information booths and kiosks, there is a risk of damage or theft. RK-DVX2U-A is the best way to secure computer hardware, by consolidating it to a secure location away from public access.
• Film/music recording studios: When recording with sensitive cameras and microphones, computers are often too noisy to be used in the immediate vicinity. RK-DVX2U-A isolates the computers into another room, maintaining the silence that recording artists require.
Features and Benefits
• Supports two DVI-D single-link signals per receiver
• Supports stereo audio signals per receiver
• Supports Mac, PC, and Linux DVI
• Supports high resolution 1920x1200 60Hz WUXGA
• Distance: 225 feet with CAT-6 STP cables
• Uses universal DVI Single Link connectors
• Zero pixel loss with TMDS signal correction
• Automatic DDC Learning
• Supports all USB 1.1 devices transparently (flash drives, printers, etc.)
• Supports USB 1.1 keyboard and mouse
• Compatible with all operating systems
• Compatible with all major KVM switches
• Rack-mountable chassis
• Data recovery for digital video
• Supports 1.5 and 12Mbps data rates
• Plug-and-play
Package Includes
• Powered rack/chassis with 8x receivers [RK-DVX2U-A-RX8]
• 1x Power cord [CCPWR06]