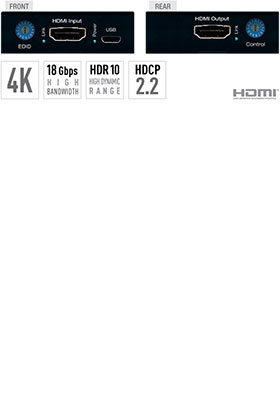 Buy this item and earn 249

Club

Points.
4K/18G HDMI fixer, booster, buffer
of EDID, HDCP, hot-plug, 18G to 10G compression/decompression
---
Looking for a better price? Write to us or call us at 1-800-636-3434 and ask for our special offer.
---

Key-Digital® KD-Fix418 HDMI buffer and booster is designed and engineered to offer the best in quality, performance, and reliability, while providing a cost-effective, ultra-slim HDMI signal correction solution.
KD-Fix418 extends and re-clocks Ultra-HD/4K signals with TMDS bandwidth up to 18Gbps and buffers essential digital video communication such as EDID handshaking, HDCP compliancy, and Hot Plug Detection voltage.
KD-Fix418 supports all SD, HD, VESA and Ultra HD/4K video standards, including Ultra-HD/4K with HDR10, 1080p/60, 1920x1200, and supports HDCP 2.2.
Key Features
• HDMI Correction: Resolves common HDMI integration obstacles related to HDCP, EDID, Hot Plug Detection, and bandwidth
• Compress/Decompress: Pair units to compress and decompress 18Gbps video signals and extend via legacy 10.2Gbps cabling
• Boost Mode: High equalization option on HDMI input for repair of degraded incoming signals
• Cabling Extension: Works with HDMI cabling for extension of 4K/Ultra-HD signals with HDR10 up to 75 feet / 23m in or out. Maximum one active/directional HDMI cable may be used
• 4K/Ultra-HD Support: 4096x2160 or 3840x2160 24/25/30/60hz at 4:4:4 (up to 18Gbps bandwidth)
• HDR10 and Dolby Vision: More life-like images through a greater range of luminance levels
• HDCP 2.2: Compliancy up to HDCP 2.2 and backward compliant
• Deep Color Support: Up to 4K/Ultra-HD 30Hz 4:4:4/12 bits or 60Hz 4:4:4/8 bit
• Low Profile: Super compact chassis size
• USB Powered: Low power consumption enables power from standard USB micro port
• Full Buffer System™: Manages TMDS re-clocking / signal re-generation, HDCP source & display authentication, Hot Plug Management and EDID Control handshake
• Lossless Compressed Digital Audio: Dolby® TrueHD, Dolby® Digital Plus, DTS-HD Master Audio™ and Dolby® Atmos
• Auto-EQ: Precise signal equalization applied to input and output signals automatically delivers best possible picture quality
• EDID Control: Internal library with 15 EDID handshakes including 4K with HDR in addition to native EDID data of output/display
• Forced HPD: Enables integrator to choose if active signal voltage is forced to connected input device
• CEC and ARC Pass-thru: Enables inter-device communication signals via CEC, ARC, and HDMI Ethernet channels