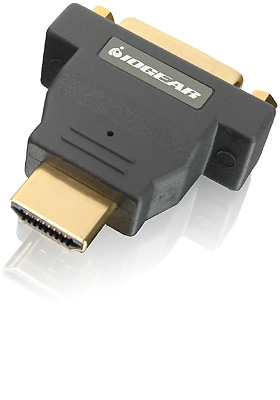 Buy this item and earn 5

Club

Points.
GHDMDVIF: Gold-plated HDMI (male) to DVI-D dual-link (female) adapter
IOGEAR's HDMI (M) to DVI (F) Video Adapter allows you to connect a DVI-enabled device using a DVI cable to an HDMI-enabled device such as a HDTV, PC monitor, HDMI switch, AV receiver etc.
One end of the adapter is an HDMI male connector and the other end is a DVI-D Dual Link female connector.
Simply plug the HDMI male connector to an HDMI-enabled device, and then connect a DVI-D (Dual Link or Single Link) cable which is plugged into a DVI-enabled device to the DVI connection on the adapter.
Features
• HDMI male connector
• DVI-D Dual Link female connector
• Supports DVI-D Dual Link and Single Link cables
[SD] product
• An [SD] product is a 100% functional product in an "As New" full working condition
• Typically an [SD] product is an unused open-box return with imperfect packaging (e.g. a torn bag; a squishes box, etc.)
• An [SD] product may bear slight scratches, packaging imperfections, and/or other minor cosmetic issues
• An [SD] product comes with a one-year manufacturer's warranty backed up by KVMGalore
• Quantities are limited and orders are filled on a first come, first served basis
• A sale of an [SD] product is final. An [SD] product is not eligible for being returned