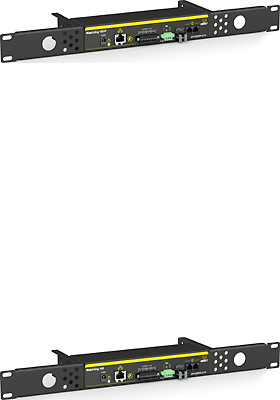 Compact environmental monitoring and relay control with temperature, humidity, dew point on-board sensors
optional built-in PoE (power over Ethernet), external-sensor ports and several mounting and wire-management options
---
Designed specifically for smaller-scale applications, Watchdog 100 combine several of the most popular and useful environmental monitor features into compact, reduced-cost units with a simplified, easier-to-use web interface.
With a built-in temperature and humidity/dew point sensors, a Digital Sensor Bus port, four analog-sensor inputs, and a single dry-contact control relay, Watchdog 100 provide a flexible and sophisticated monitoring solution for areas where space is at a premium such as small-office server closets, remote telecom-equipment bunkers, and warehouse facilities.
Watchdog 100 come in two models: The standard Watchdog 100 model, and the enhanced Watchdog 100-P model which includes Power-over-Ethernet (PoE) capability. Aside from the PoE option, both models function identically.