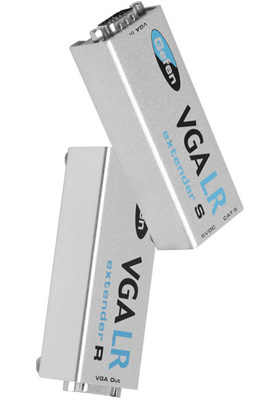 Buy this item and earn 50

Club

Points.
EXT-VGA-141LR: Extends any VGA or component HD display using a single CAT-5 cable
up to 330 feet from the video source
---
Extends:
• One VGA
The VGA Extender LR allows users to extend video signals beyond the A/V rack. The VGA Extender LR can be used to extend an analog signal to cover distances up to 330 feet. Industry standard Category 5e (CAT-5e) cable is used for the extension.
VGA Extender LR also features a trim pod for fine video adjustment.
How it Works
The VGA Extender LR Send unit connects to your source using the supplied cable. The Receive unit connects to your display - up to 330 feet away. One CAT-5 cable connects the Send and the Receive units to each other, extending your video flawlessly.
Features and Benefits
• Extends any VGA or high definition component display up to 330 feet (100 meters)
• One CAT-5 cable for extension
• Maintains 1920 x 1200 x 75 resolution video
• Supports resolutions up to 1080p, 2K
• Trim pod for fine video adjustment
• Installs in seconds
Package includes
• VGA Extender LR Send Unit
• VGA Extender LR Receive Unit
• 6-feet VGA cable (M-F)
• 5V external power supply
[SD] Product
• An [SD] product is a 100% functional product in an "As New" full working condition
• Typically an [SD] product is an unused open-box return with imperfect packaging (e.g. a torn bag; a squishes box, etc.)
• An [SD] product may bear slight scratches, packaging imperfections, and/or other minor cosmetic issues
• An [SD] product comes with a one-year manufacturer's warranty backed up by KVMGalore
• Quantities are limited and orders are filled on a first come, first served basis
• A sale of an [SD] product is final. An [SD] product is not eligible for being returned