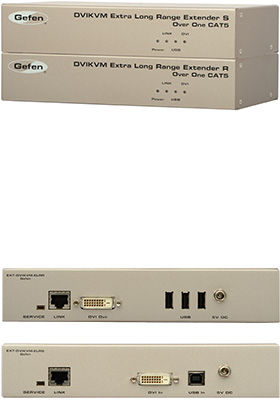 Buy this item and earn 715

Club

Points.
EXT-DVIKVM-ELR: Extra long range (330 feet) KVM extender for DVI and USB over one CAT-5 cable
Extends:
• DVI
• USB keyboard/mouse
• USB 2.0 peripherals
DVIKVM ELR extends any DVI and USB source to a monitor, touch screen display, or other digital signage application over a distance up to 330 feet (100 meters) using one CAT-5 cable.
USB 2.0 data rates up to 100 Mbps are supported in addition to backward-compatibility with USB 1.1.
The Receiver Unit allows the connections of up to three (3) USB devices, providing access to printers, scanners, cameras, external storage media, digital signage, and automated control systems.
This product uses Gefen ELR technology, allowing DVI and USB signals to travel along the same CAT-5 cable, reducing cabling costs and providing easier installation.
How it Works
Place the DVIKVM ELR Sender Unit next to the DVI source. Use the included DVI cable to connect the computer or other DVI source to the Sender Unit. Use the supplied USB cable to connect the USB host (source) device to the USB port on the Sender Unit. Connect the Receiver Unit to the monitor or digital signage display with a DVI cable. Connect the USB devices to the Receiver Unit. Use one Cat-5 cable, up to 330 feet (100 meters), to connect the Sender Unit to the Receiver Unit. Connect the included locking power supplies to the Sender Unit and Receiver Unit, and then connect both power cords to available electrical outlets.
Features and Benefits
• Supports DVI resolutions up to 1920x1200 @ 60 Hz or 1080p at 330 feet (100 meters)
• Extends USB 2.0 up to 330 feet (100 meters)
• Supports USB 2.0
• Backward-compatible with USB 1.1 devices
• Field Upgradeable via USB mini-jack
• Works with PC and Mac computers
• Locking Power Supplies
• Rack-mountable
Package Includes
(1) Gefen DVIKVM ELR - Sender Unit
(1) Gefen DVIKVM ELR - Receiver Unit
(1) 6 ft. DVI cable (M-M)
(1) 6 ft. USB Cable (A-B)
(2) 5V DC Locking Power Supplies
(1) User Manual
Note: This product does not support HDCP content with DVI sources.