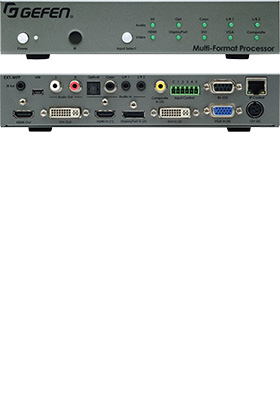 Buy this item and earn 429

Club

Points.
EXT-MFP: Switch, convert and scale today's advanced and legacy audio/video formats
Gefen EXT-MFP Multi-Format Audio/Video Processor is a compact and powerful presentation switcher with cutting edge format conversion and scaling abilities. It supports input and output resolutions up to 1080p Full HD and 1920x1200 (WUXGA), with HDCP.
Its unique features include an intuitive and elegant web server interface, an easy-to-use On Screen Display (OSD), IP (Telnet and UDP) control, RS-232 control, IR control, independently password-protected user and administrator access, advanced EDID management, a wide variety of video inputs including Mac and PC compatible DisplayPort, independent and configurable audio and video routing, input selection via contact closure, assignable input naming, and a compact form factor that can be surface or rack mounted, or placed on a shelf.
EXT-MFP features full compatibility with the Gefen Syner-G™ software, including Discovery, Show-Me, and IP configuration.
It is a complete and cost-effective solution for managing video and audio in classrooms, conference rooms, command centers, and as the backbone of any other high performance system that needs to interface with multiple sources, AV formats, and resolutions in a dynamic environment.
EXT-MFP supports the following inputs:
• HDMI
• DVI
• DisplayPort
• VGA
• Composite
EXT-MFP can be controlled via the front panel push buttons or the included IR remote control, in conjunction with its on screen display. It can also be controlled via its web server interface, IP control (Telnet or UDP), or RS-232. To facilitate independent IR control of multiple units of EXT-MFP installed in close proximity, the handheld remote can be programmed via its DIP switches to output 4 distinct sets of IR codes, and the Multi-Format processor can be programmed though its OSD, web server interface, Telnet/UDP, or RS-232 to respond to these specific sets of commands.
How it Works
Each of the following inputs is available on the EXT-MFP: HDMI, DVI, DisplayPort, VGA, and Composite.
Connect these inputs to compatible AV or video sources, using high quality cables specific to each format and resolution.
Connect up to two displays or downstream equipment to the HDMI and DVI outputs.
Connect up to two digital audio sources to Optical and Coax inputs.
Connect up to two analog audio sources to the L/R 1 and L/R 2 inputs using 3.5mm mini-stereo cables.
For IP control, connect a CAT-5 cable from your Local Area Network to the IP Control port.
For RS-232 control, connect the a DB-9 cable from the EXT-MFP to an automation control device.
Connect the included power supply to the 12V DC power supply jack and to an available electrical outlet.
When the processor is powered-on, the Power LED will glow in blue. A red power LED indicates that the unit is in Standby. The audio/video LED indicators on the front of the processor will glow bright green when the corresponding input is selected.
Features and Benefits
• Independent and configurable audio and video routing
• Supports input and output resolutions up to 1080p Full HD & 1920x1200 (WUXGA)
• HDCP compliant
• HDMI, DisplayPort, DVI, VGA, and Composite video inputs
• DisplayPort input is compatible with Mac and PC computers
• TOSLink® optical digital, S/PDIF coaxial digital, and two analog L/R audio inputs
• Each audio source can be independently assigned to any video source
• Audio sources can be temporarily switched away from their assigned video sources
• On-screen display (OSD) menu and web server interface allow easy set-up & control
• IP control via Telnet, UDP, and web server interface
• RS-232 Serial interface for use with an automation control system
• Independent IR control of up to four units in proximity, using distinct command sets
• Password-protected user and administrative access
• Advanced EDID Management for rapid integration of sources and dispays
• Assignable input naming
• System Configuration Upload/Download function
• Plug-and-Play installation with little to no set-up
• Locking power supply connector
• Rack-mountable using EXT-RACK-1U-GRY (available separately)
• Surface-mountable using the included L-brackets
Package Includes
(1) Multi-Format Processor (EXT-MFP)
(1) 6-pin Phoenix Plug (CON-PH-6P-M-GRN-AB)
(2) L- shaped Brackets for surface mounting
(4) Mounting Screws for L-shaped brackets
(2) Mounting Screws for EXT-RACK-1U-GRY
(4) Self-Adhesive Rubber Feet
(1) IR Remote Control (RMT-MFP)
(1) 12V DC Power Supply (EXT-PS121.5AIP-3P)
(1) Quick-Start Guide (QSG-EXT-MFP)