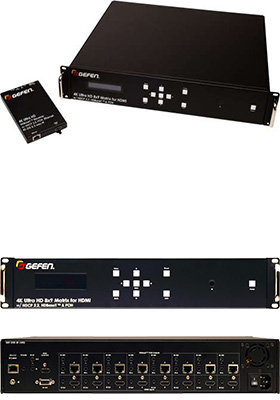 Buy this item and earn 7,644

Club

Points.
GEF-UHD-89-HBT2: Route eight (8) 4K sources to any combination of eight (8) remote 4K displays
up to 330 feet away over CAT-5, with PoH
---
Gefen 4K Ultra HD 8x9 Matrix for HDMI w/ HDCP 2.2, HDBaseT 2.0, and PoH routes eight 4K sources to any combination of nine 4K displays. It features eight HDMI inputs, one HDMI output for local viewing/monitoring, and eight HDBaseT™ 2.0 outputs. The HDBaseT™ 2.0 outputs extend AV and controls up to 330 feet at 4K to eight receivers installed at remote viewing locations. Gefen's implementation of HDBaseT 2.0 Colligo™ platform ensures an even more robust and resilient connection than the industry standard HDBaseT™.
Resolutions up to 4K Cinema-DCI (4096x2160 at 24 or 30 Hz 4:4:4) and 4K Ultra HD (3860x2160 at 60 Hz, 4:2:0 or 30Hz 4:4:4) are supported. Gefen 8x9 Matrix also supports 1080p Full HD, 1920x1200 (WUXGA), 3DTV, and Deep Color (up to 1080p resolution).
This product is compliant with HDCP 2.2 protocol as well as the legacy HDCP 1.4.
Multichannel digital audio including 7.1 channels of LPCM and HBR (High Bit Rate) digital audio formats such as Dolby Atmos®, Dolby® TrueHD, DTS:X™, and DTS-HD Master Audio™ are also passed through.
HDBaseT™ extension between the matrix and the eight included receivers supports HDMI, 2-way IR, RS-232, and Ethernet. IR from viewing locations to the sources can be routed independently from video if need be.
PoH (power over HDBaseT™) technology provides power to the receiver units and other PoH-class-compliant devices, using the same CAT-5 cable that extends the HDMI and control signals.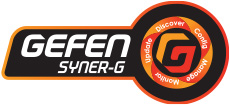 Gefen Syner-G™ software's Discovery and Show-Me features simplify initial IP configuration.
This matrix can be controlled via front panel buttons, a handheld IR remote, electrical IR, RS-232, Telnet, UDP, and Gefen's intuitive and user-friendly web server interface. An easy-to-read, super-bright OLED front panel display indicates routing status and IP settings.
The matrix comes in a rack-mountable enclosure with detachable rack-ears for shelf-top placement. Low profile, surface-mountable Receiver units fit in tight places and accommodate Gefen locking HDMI cables for secure connections.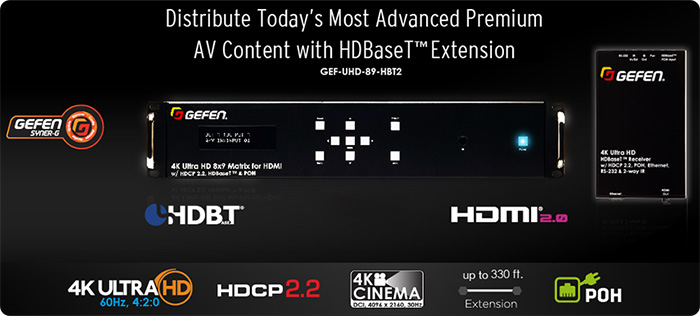 Features and Benefits
• Routes eight 4K sources to nine displays
• Supports resolutions up to 4K Cinema-DCI (4096x2160 at 24 or 30 Hz), 4K Ultra HD (3860x2160 at 60 Hz, 4:2:0 color space), 1080p Full HD, and 1920x1200 WUXGA
• HDCP 2.2 and 1.4 compliant
• Extends HDMI, Ethernet, RS-232, and 2-way IR up to 330 feet
• Supports 12-bit Deep Color (up to 1080p Full HD)
• 3D pass-through
• Lip Sync pass-through
• IR from viewing locations to sources can be routed along with or independent from video path
• Push button front panel controls
• Advanced EDID management for rapid integration of sources and displays
• Pass-through of LPCM 7.1 and HBR (High Bit Rate) audio formats such as Dolby Atmos®, Dolby® TrueHD, DTS:X™, and DTS-HD Master Audio™
• Supports the use of DVI sources and DVI displays with HDMI-to-DVI adapters (not included)
• RS-232 serial interface for use with an automation control system
• IP control via Telnet, UDP, and the built-in web server interface
• IR remote control
• Gefen Syner-G™ software's Discovery and Show-Me features simplify initial IP configuration
• Field-updatable firmware via web server interface
• Can be placed on a shelf or mounted in a standard 19-inch wide rack
Package Includes
(1) 4K Ultra HD 8x8 Matrix for HDMI w/ HDCP 2.2, HDBaseT, & PoH (GEF-UHD-89-HBT2)
(8) 4K Ultra HDBaseT Receiver HDCP 2.2 & PoH w/ Ethernet, RS-232, & 2-way IR (GEF-UHD-HBT2)
(1) IR Remote Control (RMT-89)
(8) Mini Phone to DB9 adapter (M-F) (ADA-MP-2-DB9-MF-AB)
(8) Mini Phone to DB9 adapter (M-M) (ADA-MP-2-DB9-MM-AB)
(1) IEC-type AC Power Cord (CAB-POWERCORD-xx)
(1) Set of Rack Ears (RACK-AB-2U-BLK) - attached
(16) L-shaped Brackets (BKT-L-401510-AB)
(40) Screws for BKT-L-401510-AB (SCR-M3-05-06-PFH-ZP-AB)
(8) Brackets for Locking HDMI (BKT-HD-LCK-100418-BZP-AB)
(1) Quick-Start Guide (QSG-GEF-UHD-89-HBT2)