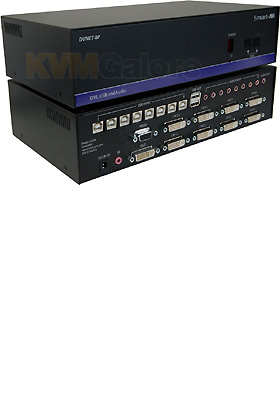 Share a DVI-D Monitor, USB 2.0 Devices, Stereo Audio Components and/or any USB Keyboard and Mouse Between 2, 4, 8 or 16 Computers for Increased Productivity and Network Flexibility.
Smart-AVI's family of DVI switches has been developed with multiple applications in mind, from industrial workstations to digital signage monitoring. This gives system architects and administrators alike flexibility and the power of cross-platform computer integration in a shared environment.
The DVNET cross-platform switches make it possible to easily share a DVI-D monitor, stereo audio, USB 2.0 devices and any USB keyboard and mouse seamlessly between 2, 4, 8 or 16 Macs or PCs.
In the medical or industrial fields where it may not be practical (or safe) to have one or more CPUs in the general vicinity, Smart-AVI's DVI switch series is the perfect solution, allowing for either PC or Mac signals to be extended from computer to monitor (30 feet from computer to DVI Switch, and then 30 feet from DVI Switch to remote monitor/display point).
Another practical use for one of Smart-AVI's DVI switches would be for media recording studios, where soundproofing and space issues come into play. Using a DVI Switch eliminates the inherent "hum" of a powered CPU and gives you the freedom of using your keyboard, mouse and monitor without having to find room for the computer itself in the same workspace.