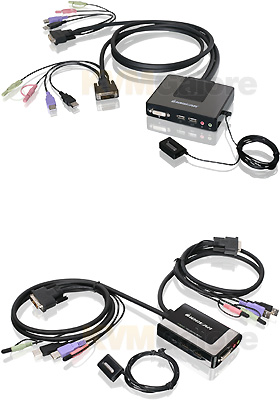 DVI/USB Cable KVMA Switches
2-port KVM + audio switches with built-in molded cables and peripheral-sharing capability, supporting USB computers with DVI digital video
Read more below...

$159.95
Compare to MSRP $199.95 -
You save $40.00

$99.95
Compare to MSRP $124.95 -
You save $25.00
2-Port USB and Single-Link or Dual-Link DVI-D Cable KVM Switches with Audio and Mic, Built-In Cables, Remote Switching and Peripheral Sharing.
DVI/USB Cable KVMA Switches from IOGEAR represent a simple method for sharing one single-link or dual-link DVI monitor, mouse, keyboard, speaker set and microphone between two computers.
Equipped with IOGEAR's DynaSync* technology which remembers your monitor's ideal resolution and refresh rate, IOGEAR's DVI/USB Cable KVMA Switches boot all your computers simultaneously and switch back and forth between the two computers while still maintaining the ideal resolution of the monitor.
USB 2.0 peripheral sharing feature via mouse port allows connecting a powered USB hub to expand your USB connectivity.