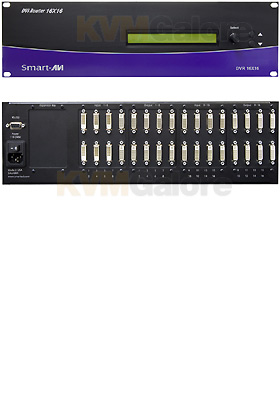 Buy this item and earn 5,249

Club

Points.
DVR16X16S: A non-blocking 16x16 digital video matrix switch
independently routes DVI-D signals from 16 local computers to 16 local monitors
---
SmartAVI's non-blocking digital video matrix switch provides an easy and dynamic approach to routing high-resolution video output (up to 1920x1200) from 16 sources up to 30 feet away independently to 16 displays up to 30 feet away.
The unit can be controlled remotely via RS-232, infrared, USB, and over the Internet via TCP-IP. It also offers simple management of several different types of displays using advanced EDID detection.
DVI Router 16X16 can be controlled remotely in several ways:
• RS-232, using a local computer running SmartAVI's SmartControl Software - a Windows®-based software that is easy to understand and simple to use – a cornerstone of all SmartAVI products. With SmartControl, you can assign a unique name to each port on the AVRouter, as well as each display, customizing projects to meet your needs. Although all the functions of the matrix are available locally on the front panel of the DVI Router 16x16, using SmartControl allows for customization of all the matrix functions.
• IR, using a hand-held remote control. Many system proffesionals prefer the IR control interface because it offers greater flexibility to manage the DVI Router 16x16 at a distance. In some cases, the displays will not be visible from the matrix. In these situations it is necessary to control the matrix with Infrared control.
• USB, using a local computer with no RS-232 support. Computers that do not have an RS-232 port can connect to the DVI Router 16x16 via SmartAVI's USB to RS-232 converter. Utilize all the control of an RS-232 control interface with the simple and common USB interface. This solution is perfect for laptops and newer computers that only have a USB port.
• TCP-IP, using a computer anywhere in the world via the Internet. Remote control is essential to real-time management of the DVI Router 16x16. SmartAVI's SMTCP module is the perfect solution to effective remote management. Simply connect the SMTCP module to the DVI Router 16x16 and connect from anywhere on the internet. When you need to make a change, but can't be there in person, the SMTCP makes remote control a snap.
These control options allow an administrator to see what is being shown on the remote displays without having to leave an office or control room.
The SmartAVI DVI Router 16x16 provides single-link, DVI-D operation at the maximum TMDS rate of 2 x 1.65 Gbps at resolutions up to 1920x1200. The DVI-D signals can be transmitted through 30 feet of copper at the maximum TMDS rate on both the input and output sides of the switch.
Features and Benefits
• EDID Utility: With SmartAVI's EDID Utility it is possible to upload multiple EDID to the Matrix. EDID is information sent by a display back to the computer, indicating the maximum resolution that display is capable of rendering. When controlling several displays, in this case up to 16, it is critical to be able to manage the EDID information. With SmartAVI's EDID utility, managing your displays is simple.
• Multiple EDID Support
• Programmable EDID from computer
• Automatic EDID learning from monitor
• Increases productivity by providing access to up to 16 computers from 16 workstations
• 16 x 16 non-blocking, single-link DVI-D matrix switch
• Automatic output pre-emphasis and drive level
• Automatic receiver equalization
• Supports DVI operation at the maximum rate of 2 x 1.65 Gbps
• Supports resolutions up to 1920x1200
• Control from either front panel or RS-232
• Available IR remote
• USB Control Available
• Ethernet control available
• Easy-to-use Windows based software