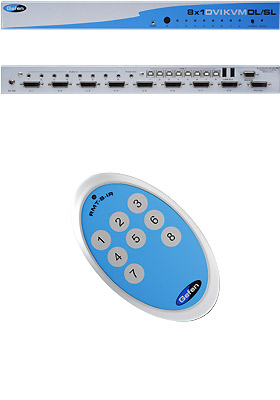 Buy this item and earn 993

Club

Points.
EXT-DVIKVM-841DL: Switch between any eight computers (Mac or PC) using one dual-link DVI display
Gefen's 8x1 DVI KVM DL Switcher provides you with greater flexibility in integrating cross-platform computer equipment easily and without networking. It enables you to switch easily and reliably between any combination of eight DVI-DL (dual link digital visual interface) computers using one DVI-DL display.
The 8x1 DVI KVM DL Switcher also supports USB 2.0 for USB keyboard/mouse and other high-speed peripherals. Audio is switched for each computer as well, allowing for the creation of multimedia desktop environments, and you can even choose between a Macintosh or PC keyboard/video/mouse combination.
Switching can be controlled through either the included IR remote or the front panel push buttons.
How it Works
Simply plug your display, keyboard/mouse and audio peripherals directly into the 8x1 DVI KVM DL Switcher's outputs and connect the supplied cables to the eight computers you want to control. Select the computer you want to work on using the remote that is supplied with the unit. Switching between computers is done from the 8x1 DVI KVM DL Switcher remotely using the included infrared RMT-8IR remote control or the front panel push buttons.
Note: This device is HDCP Pass-Through.
Features and Benefits
• Switches easily between any eight DVI-DL computers with USB 2.0 and audio
• Maintains highest resolution single link and dual link video
• Saves space on your desktop
• Use either PC or Mac USB keyboard/mouse
• Discrete IR remote (included)
• Supports resolutions up to 1920x1200 and 3840x2400
• Supports DDWG standards for DVI monitors
• Includes rack ears
Package Includes
• 8x1 DVI KVM DL Switcher
• Eight 6' DVI Cables (m-m)
• Eight 6' USB cables (A-B)
• Eight 6' Audio cables
• 5V power supply
• RMT-8IR Remote Control
• Rack Ears