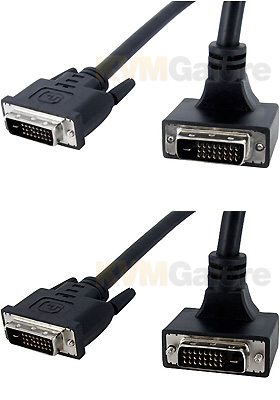 DVI-D Dual-Link 90° Cables M/M
DVI-D dual-link digital video monitor male-to-male cables used to connect DVI digital devices, with a 90° angle to reduce strain at cable ends
Read more below...

$16.99
Compare to MSRP $19.99 -
You save $3.00

$16.99
Compare to MSRP $19.99 -
You save $3.00
6-Foot 90° DVI-D Dual-Link Digital Video Monitor Cables – Male to Male.
These 6-foot Dual-Link
DVI-D
Monitor Cables feature a standard DVI-D dual-link connector as well as a DVI-D (
dual-link
) connector that is situated on an upward/downward angle relative to the shaft of the cable, requiring only 40 mm of space at the connection point.
The perfect solution for making digital video connections in tight spaces, the design of the upward/downward angle cable connectors help prevent damage to the cables and ensure long-lasting performance by eliminating the need to bend or strain the cables to account for a lack of space.
These 90° DVI-D dual-link cables are backed by StarTech.com's lifetime warranty.