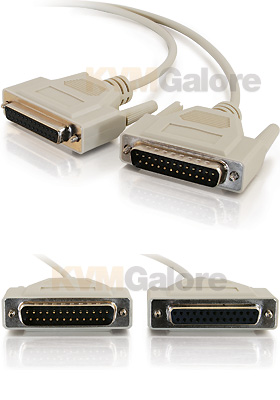 DB25 Male to DB25 Female Null Modem Cables
Foil-shielded DB25 male to female null modem cables used to connect 2 DTE or DCE devices, with an overmolded construction for added strain relief
Read more below...

$7.15
Compare to MSRP $15.99 -
You save $8.84

$11.65
Compare to MSRP $25.99 -
You save $14.34
Use as a Serial Printer Extension Cable.
Cables To Go's line of null modem serial cables allows two DTE or DCE devices to communicate with no conflict in data transmission. The transmit and receive signals are crossed to ensure proper data transmission.
Each null modem cable is designed with a rugged, overmolded construction that provides added strain relief and a solid connection each time. Plus the cable is foil shielded for EMI/RFI protection from surrounding office equipment and flourescent lights. Thumbscrew connectors provide a fast, easy connection every time.