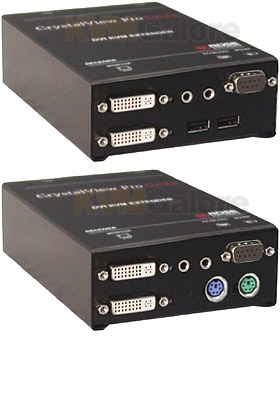 Dual Digital DVI CATx KVM Extenders, Extend USB or PS/2 Keyboard/Mouse, Dual DVI-D Video, Optional Serial and Audio Signals up to 400 Feet Away over CAT-5/5e/6/7 Cable.
CrystalView Dual-DVI CATx are the KVM extenders of choice for businesses that need to extend and operate a DVI computer or KVM switch from a great distance.
CrystalView Dual-DVI CATx make this possible by the use of standard CAT-5/5e/6/7 cable. You can fully operate and control a computer from as far away as 400 feet using standard CATx cable.
CrystalView Dual-DVI CATx support all combinations of DVI-D monitors and video cards.
The system consists of two units: a transmitter and a receiver. The transmitter connects to your CPU's keyboard, DVI-D monitor, and mouse connectors, or to a Rose KVM switch. The receiver connects to a keyboard, two DVI-D video monitors and mouse or KVM station. The transmitter and receiver are connected together with CATx industry standard cable. The receiver can be up to 400 feet from the transmitter using CAT-5, 5e, 6, or 7 cables.
The transmitter's local KVM access allows an additional KVM station to be connected to the transmitter unit, providing operation from the transmitter or the receiver unit.
Serial/audio models connect to the computer's serial and audio ports and to the corresponding ports on the transmitter. The serial/audio receiver connects to a set of speakers and to a supported serial device.