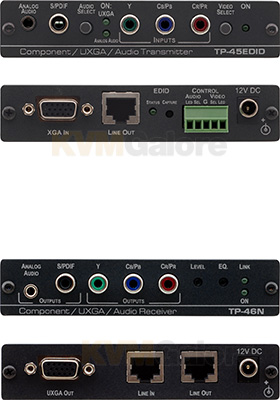 Component/VGA+Audio Extenders
Component 1080p or computer graphics (WUGXA) video plus analog or digital audio over UTP or STP twisted pair extenders up to 330 feet, with EDID
Read more below...

$312.00
Compare to MSRP $390.00 -
You save $78.00

$316.00
Compare to MSRP $395.00 -
You save $79.00
Component Video or Computer Graphics Video (VGA) Plus Audio over Twisted Pair Extenders up to 330 Feet, with EDID.

Kramer Component/VGA+Audio Extenders are high-performance twisted pair transmitters and receivers for computer graphics or component video and unbalanced stereo audio signals.

The transmitter converts the input signals to a twisted pair signal that it transmits to a compatible receiver.

The receiver converts the twisted pair signal back into audio and video signals.

Highlights
• HDTV Compatible.
• Max. Resolution - WUGXA (15-pin HD) & 1080p (component).
• Independently Selectable Video and Audio Sources - Computer graphics or component video, analog or digital audio.
• A single connection to the transmitter or the receiver powers both units when the devices are within 150ft (50m) of each other.
• Cable - UTP (unshielded twisted pair) or STP (shielded twisted pair) such as CAT 5.
• EDID Capture - Copies and stores the EDID from a display device.