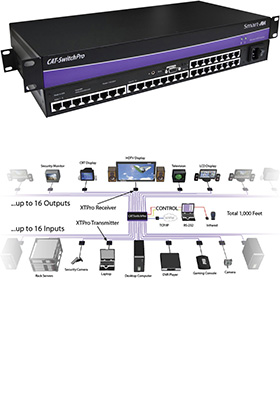 Buy this item and earn 2,474

Club

Points.
CSW08X08S: CAT-5 audio/video matrix router
for WUXGA, component video, composite video and S-video with stereo audio and full RS232 control
---
CATSwitch routes audio and video signals from several different video sources out to multiple displays (projectors, monitors, etc.) and speakers via inexpensive CAT-5/6 UTP cable.
CATSwitch is capable of connecting to as many as 16 video sources via transmitters (sold separately - see listing below) and 16 video displays via receivers (sold separately - see listing below) with a maximum extension of 1,000 feet between the transmitter and receiver units (1,799 feet with XT Pro Xtreem Receiver).
A single audio/video output can be routed to one or multiple destinations.
Video is transmitted at a resolution of 1920 x 1200 to insure high resolution images. Buffered video outputs and analog delivery of stereo audio maintains optimum integrity throughout the system. Special remote boxes offer compatibility with video composite , UXGA, component video and S-video.
RS232 Control
Controlling the CATSwitch has never been simpler than with the included SmartControl software (SM-CSW). With SmartControl, you can assign a unique name to each port on CATSwitch, as well as each display, customizing projects to meet your needs. Although all the functions of the matrix are available locally on the front panel of CATSwitch, using SmartControl allows for customization of all the matrix functions.
Optional USB Control
Computers that do not have an RS-232 port can connect to CATSwitch via Smart-AVI's USB to RS-232 converter. Utilize all the control of an RS-232 control interface with the simple and common USB interface. This solution is perfect for laptops and newer computers that only have a USB port.
Optional IR Control
Many system proffesionals prefer the IR control interface because it offers greater flexibility to manage the CATSwitch at a distance. In some cases, the displays will not be visible from the matrix. In these situations it is necessary to control the matrix with Infrared (RMT-2) control.
Optional TCP/IP Control
Remote control is essential to real-time management of CATSwitch. Smart-AVI's SMTCP-2 module is the perfect solution to effective remote management. Simply connect the SMTCP module to CATSwitch and connect from anywhere on the internet. When you need to make a change but can't be there in person, the SMTCP makes remote control a snap.
Access
Enables easy access to multiple servers in various locations. Facilitates data sharing among departments.
Security
Safeguards the servers by storing them in a secure and climate controlled environment while still providing access from the production floor.
Savings
Saves in equipment costs, physical space and utilities expense.
Productivity
Increases productivity by facilitating testing and performance evaluation of software and equipment, on multiple servers, from a single keyboard mouse and monitor station.
Multimedia Presentations
Can be used in multimedia presentations, where the information is transmitted from various computers.
Features and Benefits
• Supports high resolution video up to 1920 x 1200.
• High quality audio switching.
• Infrared, RS232 and TCP/IP control.
• PC Windows software control.
• Integral UTP distribution.
• 1U rackmounted chassis.
• Uses easy to install, inexpensive CAT-5/5e/6/7/8.
• Maximum extension of 1,000 feet between the local and remote units (1,799 feet with XT Pro Xtreem Receiver).
• HDTV compatible (720p, 1080i,1080p).
• 300 MHz bandwidth.
• Compatible with VGA, XGA, Sun, MAC and SGI.
• Sync Format / Polarity Preservation.
• Compatible with Line Level Stereo Audio Signals.
• High ground loop immunity.
• Built-in power surge and transient protection.
• Designated trimmer in the remote unit to compensate for length.
Transmitters/Receivers (Sold Separately - See Listing Below)
• XT AV - Supporting UXGA video and stereo audio
• XT Pro - Supporting UXGA video, stereo audio and RS232 or IR
• HDX Pro - Supporting component HDTV, stereo audio and RS232 or IR