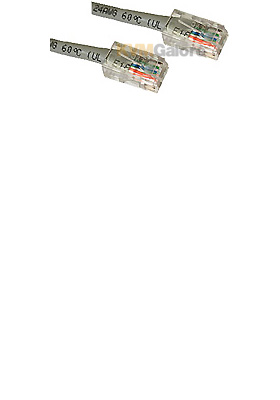 Buy this item and earn 10

Club

Points.
Made in the USA for high performance networking applications.
Today's advanced fast ethernet and gigabit computer networks require enhanced Category 5 high-speed cabling to distribute data, voice and video. Cables To Go's Enhanced Cat5 350Mhz Patch Cables will keep you ahead of the game. These cables can handle bandwidth intensive applications up to 350 Mhz and beyond. Each meets all Cat5e TIA/EIA standards, and drastically reduce both impedance and structural return loss (SRL) as compared to standard 100 Mhz wire. This is accomplished by bonding together each of the individual pairs, helping to maintain the twist-spacing throughout the line right up to the termination point. Constructed with high-quality wire and a shortened body plug, this design will keep Near-end Crosstalk (NEXT) levels to a minimum. The molded, snag-free boot prevents unwanted cable snags during installation and provides extra strain-relief. Cables To Go USA Cat5e 350Mhz Snagless Patch cables are available in multiple colors, allowing easy color-coding of your network installation.
These high-speed patch cords are 100% manufactured and tested within the United States. They are an ideal solution for anyone that needs to procure products that are manufactured exclusively in the USA.
Connector: 50-micron gold plated RJ-45 Male to Male
Conductor: 4-pair 24 AWG Stranded Copper
Jacket: PVCMolded, Snag-Free boot prevents unwanted cable snags
Applications:

1000 BASE-T; 100 BASE-T; 10 BASE-T (IEEE 802.3)
4/16 Mbps Token Ring (IEEE 802.5); 100 VG-AnyLAN
100 Mbps TP-PMD (ANSI X3T9.5); 55/155 Mbps ATM
Voice

Designed For: Network Adapters, Hubs, Switches, Routers, DSL/Cable Modems, Patch Panels and other twisted-pair applications
Exceeds Category 5e specifications
Wired: TSB 568B (AT&T 258A)
Certification: TIA/EIA
Inside Package:
Requirements:
Color: Gray
Warranty: Lifetime