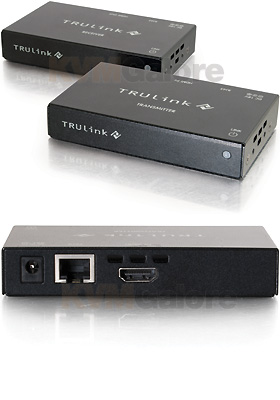 Extend HDMI video and audio signals up to 300 feet
at 1080p video resolution using HDBaseT technology
---
TruLink® HDMI over CAT-5 extenders allow for the extension of an HDMI signal over solid conductor CAT-5e/6 twisted pair cable up to 300 feet without signal degradation at a 1080p video resolution.
Transmitters and receivers are available in either a wall plate or box form factor and are interoperable allowing this solution to meet the needs of the installation environment.
This solution is compatible with any operating system and is truly plug and play with no drivers or software required. In addition, this solution utilizes TruChoice™ Power which provides the flexibility to power the system with a single power supply at either the transmitter or receiver end.
HDBaseT technology allows the Extended Display Identification Data (EDID) signals, i.e. communication of the display's capabilities, to pass through the extension solution ensuring that the content from the source is sent at the optimal resolution for the display.
Built-in power surge protection and high ground loop immunity ensure high performance signal extension.
TruLink® HDMI over CAT-5 extenders support advanced HDMI features such as 3D, auto lip sync, deep color, Dolby & DTS 7.1 audio, CEC and a 10.2 Gbps data transfer rate.
A single CAT-5 cable is required for HDMI extension.
HDMI Features Supported
• 3D
• Auto lip sync
• Deep color
• Dolby and DTS 7.1 Audio
• Consumer Electronics Control (CEC)