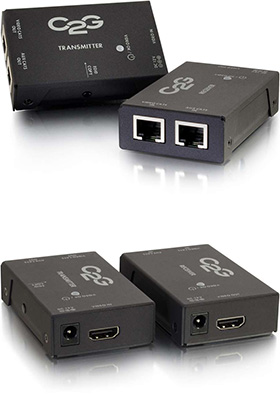 Buy this item and earn 135

Club

Points.
29298: Extend HDMI video and audio up to 160 feet
over two CAT-5 patch cables
---
The short range HDMI over CAT-5 extender kit is an ideal solution for extending HDMI audio/video signals beyond the typical 50 foot length limitation of a HDMI cable. This solution is able to extend HDMI up to 160 feet and requires the use of two CAT-5 patch cables.
Auto equalization makes installation easy regardless of the length of the CAT-5 patch cables used. Simply make the HDMI and CAT-5 cable connections and the transmitter and receiver will automatically adjust to optimize the video for the length of cable used.
EDID pass through is supported to ensure that content is sent at the optimal resolution for the display. HDCP is supported, allowing protected content to be passed through this extension solution.
The maximum resolution supported will vary depending upon the type and length of the CAT-5 patch cable.
Features and Benefits
• Extends HDMI audio/video signals up to 160 feet
• Requires the use of two standard CAT-5 patch cables
• Uses auto equalization
• Supports EDID pass through, HDCP and up to a 1080p resolution
• Kit includes both the transmitter and receiver units
• Warranty: 3 Years
Package Contents
• Transmitter
• Receiver
• Foot pad set
• Power adapter
• User guide
Note: This solution includes one power adapter which must be connected to the receiver for proper operation. The transmitter is designed to draw power from the HDMI source device. Some HDMI source devices are unable to output the power required for the transmitter to function which results in no image being displayed. In those instances, an HDMI Voltage Inserter may be required.