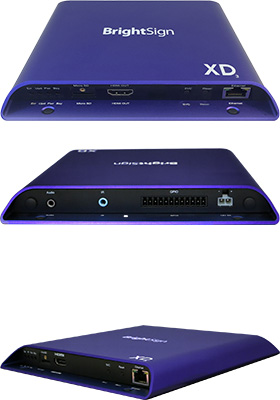 XD Digital Signage Media Players
H.265, 4K HDR digital-signage media players w/ dual-1080p-video decoding, 4K upscaling, Gigabit Ethernet, advanced HTML5, digital/analog audio
Read more below...
$549.00
Compare to MSRP $550.00 -
You save $1.00

$449.00
Compare to MSRP $450.00 -
You save $1.00
H.265, true 4K, dual-1080p decode, advanced HTML5 digital-signage media players
BrightSign XD deliver superior technology for advanced applications including a powerful 4K video engine that supports all the technology standards of the True 4K ecosystem.
These state-of-the-art technology for digital signage installations supports H.265-encoded native 4K content at 60fps, True 4K HDR and Full HD video playback including Mosaic Mode and HDMI 2.0a for stunning picture quality.
XD media players offer a hardware-accelerated HTML5 rendering engine that play advanced HTML5 content such as swipe/pinch/zoom interactive, streaming social media & multiple modular HTML5 assets alongside video, including JavaScript, CCS animations, transitions, WebGL and more.
BrightSign XD offer the most powerful H.265 4K and Full HD video engine with 4K upscaling and dual decoding of two Full HD (1080p) video simultaneously.
BrightSign XD support Gigabit Ethernet, GPIO, IR, UDP, analog/digital audio and an M.2 SSD interface. XD1033 ads dual -USB and serial interfaces.
XD233 standard I/O player features:
• H.265 encoded 4K HDR and Full HD video
• CEA HDR10 media profile: 10 bit color depth and 4:2:0 sub-sampling
• Dual video decoding of two Full HD (1080p) video simultaneously
• Advanced HTML5 rendering engine
• Gigabit Ethernet
• Analog and digital audio output
• Engaging interactive controls including GPIO, IR, M.2 SSD
• M.2 interface to support an optional wireless/Bluetooth module
XD1033 expanded I/O player has all the features of BrightSign XD243 plus…
• Dual USB (type A and type C)
• Serial control for engaging interactive options