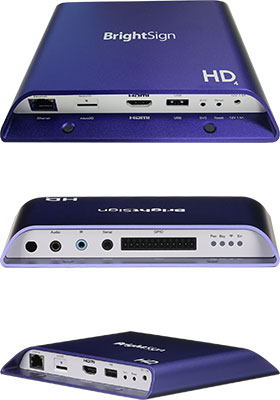 Buy this item and earn 484

Club

Points.
H.265, 4K60 or Full-HD (1080p) single video decoding, HTML5 digital-signage media player
with expanded I/O package
---
• Ideal for mainstream 4K or Full HD single video decoding
• Offers mainstream HTML5 performance
• Simultaneous playback from local, networked and streaming sources
• Gigabit Ethernet
• GPIO (GPIO connectors sold separately)
• Analog and digital audio
• Easier port access with power, HDMI and Ethernet on the front
• Additional interactive options via USB 2.0 (Type-A) and serial
• Improved power efficiency
BrightSign HD1024 is an updated classic digital signage media player, with signature reliability and powerful performance for mainstream applications and a complete feature set including 1080p60 video decoding, HTML5 and robust interactive control.
BrightSign HD1024 is ideal for mainstream Full HD and HTML5 applications that require high reliability and ease of use. It offers H.265 decoding, HTML5 rendering with mainstream performance, and Gigabit Ethernet.
Robust interactive controls, live content features, BrightWall™ and Mosaic Mode make BrightSign HD1024 media player a perfect fit for a wide range of applications.
With BrightSign HD1024 you can enjoy flawless Full HD single video decoding, mainstream HTML5 performance and simultaneous playback from local, networked and streaming sources.
BrightSign HD1024 includes the standard I/O package of gigabit Ethernet, GPIO (GPIO connectors sold separately), analog and digital audio.
With BrightSign HD1024 you enjoy flawless 4K and Full HD single video decoding, mainstream HTML5 performance and simultaneous playback from local, networked and streaming sources, plus additional interactive options via USB 2.0 (Type-A) and serial to fully engage your audience.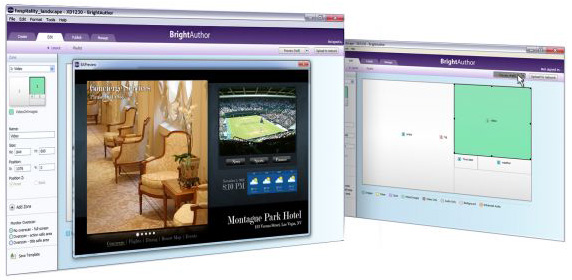 H.265
• Get more efficient, stellar quality playback using H.265
• Play both 4K and Full HD content encoded with H.265
• Get half the file size and double the bandwidth and memory savings
• Achieve better video quality with H.265 vs. H.264 at the same bit rate
• Only H.265 supports 10-bit color and high dynamic range of color
Full HD
• Exceptionally smooth 1080p playback
• 1920x1080 Full HD video at 60 frames per second, providing a flawlessly smooth and crisp viewing experience
• Supports Full HD content encoded with H.265, H.264, MPEG-1, MPEG-2 and WMV
• Offers highly reliable and flawless playback
HTML5
• Hardware-accelerated HTML5 rendering engine brings powerful content development tools to your fingertips
• Play industry standard HTML5 content including JavaScript, CCS animations, transitions, WebGL and more
• Play mainstream HTML5 content in full screen and several modular HTML5 assets alongside video playback
Mosaic Mode
• Play a multitude of smaller resolution videos simultaneously that add up to the maximum video resolution of the player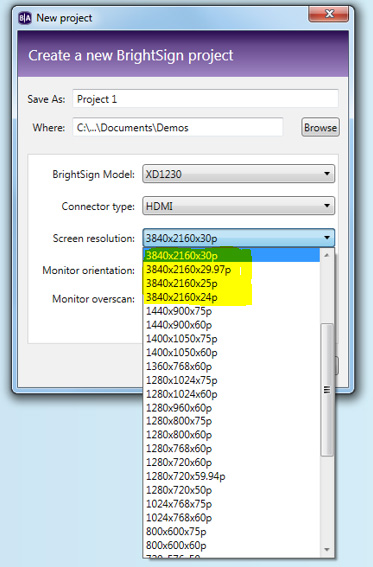 IP Streaming
• Supports Full HD video, Mjpeg and audio IP streaming, including: HLS (the standard for public internet streaming: i.e. YouTube, etc.); UDP/RTP/RTSP streaming from head-end real-time encoders; HTTP, including SHOUTcast
• Customize buffering and latency to improve media streaming performance
• Play streaming media in HTML5 assets or in BrightAuthor video, audio or MJPEG stream states
• Stream, buffer and play content from IP cameras supporting the RTSP unicast streaming protocol
BrightBeacon
• Enabling highly targeted audience engagement with Bi-directional communication between BrightSign Digital signage and mobile devices
• BrightBeacon improves the overall digital signage experience by increasing audience engagement and creating a highly targeted, personal experience on two screens. Using Bluetooth and beacon technologies, 2-way communication between BrightSign digital signage and mobile devices is achieved and allows for the delivery of highly targeted promotions based on location as well the ability to control digital signage playback from a mobile device
• Integrated beacon and BTLE technology available on BrightSign players with no batteries required
• Delivers 2-screen exposure on both large digital signage screen and mobile device display
• Senses nearby BTLE enabled mobile devices and sends highly targeted content based on location-awareness
• Supports 2-way communication between mobile devices and digital signage
• Offers a fully programmable solution with multiple beacon UUIDs supported, and easy repurposing of beacon and app associations using BrightAuthor and the BrightSign Network
• Works with the BrightBeacon sample app and can be integrated with 3rd party apps
• Compatible with BrightSign players running version 6.2+ firmware and requires a BrightSign provided plugin and Bluetooth 4.0 USB dongle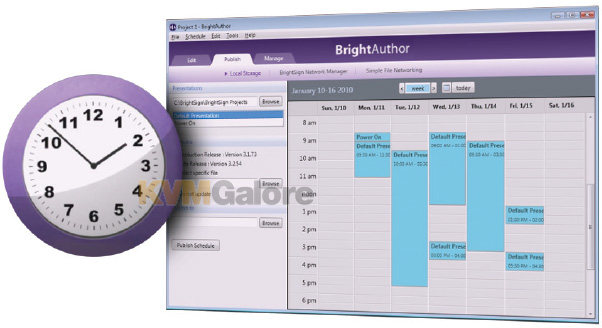 Digital Audio
• Play back high-quality digital S/PDIF audio
• Easily add audio playlists to your presentations
• Synchronize audio with video playback
• Create and play interactive retail audio product demonstrations
BrightWall™
• Create an impressive and vibrant impression across multiple displays
• A powerful drag-and-drop BrightAuthor tool that makes building video walls simple in any size and layout
• Supports separate videos per display or stretches a single video across all the displays
• Build video walls by simply choosing the number of displays, specifying the layout of the displays, and dragging the video(s) into BrightAuthor
• Utilizes the BrightSign Ethernet port and a common clock to achieve frame-accurate synchronization
Zones
• Multiply your content delivery with multi-zone layouts
• Playback multiple content files on a single screen with zones
• Abundant content support including Full HD video, images, HTML5, Live TV, audio, text tickers, Live Text, RSS feeds, date/time widgets and more!
• Control each zone using its own playlist
• Play video and audio independently
• Synchronize zones together and link to lighting and other displays to create an immersive experience
Interactivity
• Engage your audience with interactive devices and controls
• Trigger playback from virtually any type of interactive device you can dream up using Interactive Playlists in BrightAuthor or HTML5
• Connect virtually any type of interactive device to a multitude of interactive ports (GPIO, IR, UDP)
• Grab attention, demo product operations, deliver coupons and pricing on demand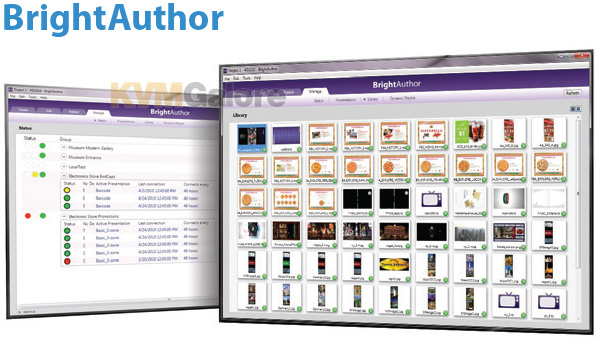 Live Feeds
• Link to any live data and media feed available to display in your signage
• MRSS feeds: Keep your signage up to date by linking to and displaying popular news, finance, weather, and sports feeds
• 3rd party schedule feeds: Connect to virtually any database to display up to the minute details. Perfect for flight timetables, event schedules, corporate statistics, etc.
• Twitter and Flickr feeds: Link to social media feeds such as twitter and Flickr to keep your signage relevant and fresh
Tagging
• BrightSign Network users can assign media and player tags for highly targeted content distribution
UDP Control
• Remotely control and interact with your digital signs via Ethernet or WiFi
• Users can interact with signage via mobile devices to download coupons or learn more about products
• Deliver emergency messaging by controlling digital signage remotely
• Integrate with databases to view inventory, statistics, pricing or any array of information
• Show controlling is made easy with UDP and serial controls: power and manage media playback, control AV devices such as projectors, lighting, etc. and integrate with other show controllers
• UDP controls can be sent via Ethernet or wireless
BrightSign App
• Easily update messaging and interact with locally networked signage using your iPad or iPhone with a simple and secure interface
• Perfect for: menu board updates; retail merchandising; emergency messaging
• Select any BrightSign player connected to a local network
• Update on-screen text and user variables immediately within the running presentation
• Trigger presentation events and change presentation content via UDP commands
• Customize the user interface to match your presentation
• Access the diagnostic tools for each unit
• Secure your displays with a password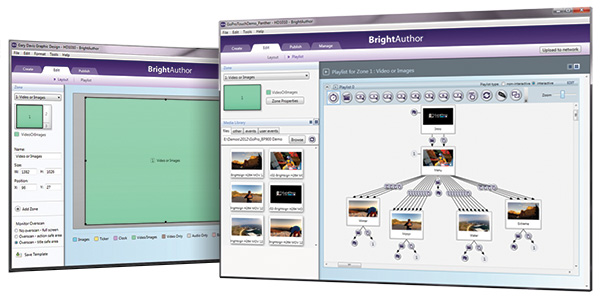 Sign Preview
• Get a sneak peek at how your signage will display
• Preview presentation playback in BrightAuthor before publishing
• Speed up presentation authoring by reviewing the final look of your digital signage
Remote Snapshot
• Get a glimpse of what your signage playback looks like
• See a snapshot image of all zones in your currently running presentation
• View snapshots over the local network via the BrightSign App or BrightAuthor
• View snapshots on the BrightSign Network via BrightAuthor or the WebUI
BrightPlates™
• Create signs using professional templates and distribute content through the cloud
• Online, template-based sign creation service accessible from any PC or Mac
• Ready to use templates in landscape or portrait orientation for a variety of verticals: menus, education, retail and corporate
• Easily customizable to match your brand
• Deliver finished presentations and content updates to any networked BrightSign player on your BrightPlates account
• Connect with content designers to create, upload and deploy original HTML templates
• Can be linked to a BrightSign Network account to access content and publish to network groups

Gigabit Networking
BrightSign offers a wide range of networking solutions to update content and easily manage your digital signs remotely
• Local Network Publishing: Free solution designed for small networks. Distribute presentations and updates to BrightSign units within a single building using a LAN
• Simple File Networking: Free solution designed for small networks. Distribute presentations to BrightSign units through a web folder
• BrightPlates: Use this browser-based application to create signs using professional templates. Includes a cloud-publishing service for turnkey deployment of signage presentations
• BrightSign Network: Secure, scalable and affordable cloud-based digital signage network service:
Delivers the complete infrastructure to serve, manage and support your digital signage network
Scalable to any size network, allowing you to manage an unlimited number of BrightSign players on a single account
Frees you from the complexities of hosting and maintaining your own network
PCI-compliant service, offering a complete set of tools to easily manage your network
Access the networking using the free PC-based BrightAuthor software or browser-based WebUI (accessible from any PC or Mac)
Includes BrightPlates™
• BrightSign Network Enterprise Edition: Installable software version of the BrightSign Network. Allows you to host a network instance on your own servers, with access to all BrightSign Network features.
Learn more about BrightSign range of networking solutions
Extended Thermal
• Designed for ambient temperatures between 0° and 70° C at 90% maximum relative humidity, non-condensing
• BrightSign players have low power consumption and are designed to efficiently dissipate heat, allowing them to be installed in virtually any environment with confidence
AutoWall™
A powerful new feature that embraces the power of HTML5 to create unique multimedia video walls with ease.
AutoWall includes a BrightAuthor Plugin Kit that allows users familiar with creating HTML5 content to build video walls that automatically scale to the number of players connected and supports a wide array of multimedia content including video, images, tickers, live feeds & HTML5 widgets.
• Landscape multimedia video walls with HTML-based layouts
• Automatically scales based on the number of players/screens in the wall
• Frame accurate synchronization & support for interactivity via HTML
• Video content is populated from BrightSign Network Dynamic Playlists or MRSS feeds
• Multiscreen ticker option with content populated from BrightSign Network or RSS feeds
• Support for any publishing method (Local File Networking, BrightSign Network, etc.)
B-deploy
• A setup feature to deploy many players at once
Software
• Free BrightAuthor Software
Available accessories
• Wireless/Bluetooth module
• MicroSD class 10 cards (various capacities)