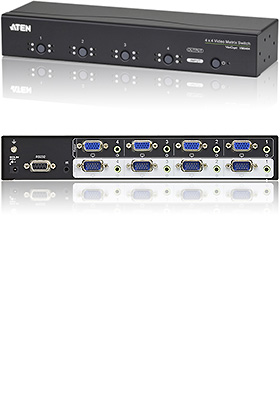 Buy this item and earn 396

Club

Points.
4x4 VGA audio/video matrix switch
ATEN VanCryst VM0404 4x4 audio/video matrix switch allows you to connect four VGA source devices to four VGA monitors, displays, or projectors- at the same time. Its vastly unique features include: fast source/display switching, IR remote control switching, unlimited matrix connections, Power On Detection for automatic display-loss prevention, RS-232 for highend controllers, and independent audio matrix capabilities.
VM0404 is a smart audio/video solution that offers an easy and affordable way to route any of 8 audio/video sources to any of 8 audio/displays, in any matrix combination. As a matrix switch, each input can be independently connected to any or all outputs, and the audio inputs from each source device can also be switched independently, giving you the ultimate in flexibility and control in any multidisplay audio/video installation.
Furthermore, for more complete systems integrations, VM0404 includes a built-in RS-232 port that allows the switch to be controlled through a highend controller or PC.
Easy Operation
• Front panel LCD display, Tuner Dials and pushbuttons
• Profile pushbutton for fast switching
• RS-232 Serial controller
• IR Remote Control
Features and Benefits
• Connects any of 8 VGA video+audio inputs to any of 8 VGA Video+ Audio outputs
• Long signal range – supports up to 30 meters
• Easily switch between multiple sources and multiple displays
• Superior video quality – up to 1920x1440; VGA, SVGA, SXGA, UXGA, and WUXGA (1920x1200)
• Features EDID expert technology to set up different video configurations via different EDID modes
• Supports up to 500 MHz bandwidth
• Supports stereo audio
• Independent switching of audio and video sources – each input can be independently connected to any or all outputs for flexibility
• Power On Detection – If one of the video sources is powered off the VM0404 automatically switches to the next powered-on source
• Cascade additional VM0404 units up to three levels
• Rack Mountable
• All metal casing
Package Contents
1x VM0404 4x4 Audio/Video Matrix Switch
1x Power Adapter
1x User Instructions