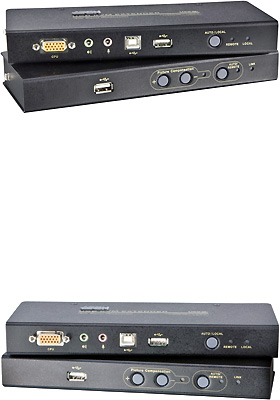 Buy this item and earn 524

Club

Points.
CAT-5 USB KVM console extender
with USB storage, audio and mic support, 820 feet
---
CE800B USB Console Extender allows access to a computer or USB KVM from a remote console from up to 820 feet away. This extender is unique in that it not only supports audio, but both units also support external USB mass storage compliant devices (Flash drives and self powered hard drives).
The unit is an ideal solution for any installations requiring computers to be kept in controlled spaces, whether it be for security or environmental concerns. With the mass storage capabilities of the unit, updates, and patches can be applied without entering your restricted area.
Security features include two level access: Administrator and four User accounts, and a valid user name and password must be entered before the drive can be used [selectable].
The use of common network cable makes installation and relocation as simple as adding the proper length cable.
Features and Benefits
• CAT-5 (or higher) cable to connect the Local and Remote Units – up to 820 feet (250m) apart
• Dual console operation - control your system(s) from either the local or remote console
• Pushbutton locks out the non-active console.
• Built-in USB port on both units supports external USB Mass Storage compliant flash drives for easy file sharing
• Special security feature requires login when mounting an external USB storage device on the remote unit
• The CE800B is configurable to your operating system Win, Mac, Sun, or SPC*
• Supports VGA, SVGA, and Multi-sync monitors – the local unit supports DDC, DDC2, and DDC2B
• High Resolution Video – up to 1600x1200 @ 60 Hz
• Built-in 8KV ESD protection and 2KV surge protection
• Adjustable gain control – manually adjusts signal strength for distance compensation.
• Supports 2 speaker stereo systems and stereo microphone
• Supports the scrolling wheel on most mice
• Upgradeable firmware
Package Content
1x CE800BL (local)
1x CE800BR (Remote)
1x Custom KVM Cable
1x F/W Upgrade Cable
2x Grounding cables
2x Power Adapter
* Special case such as FSBD choose this option if you run into startup problems.