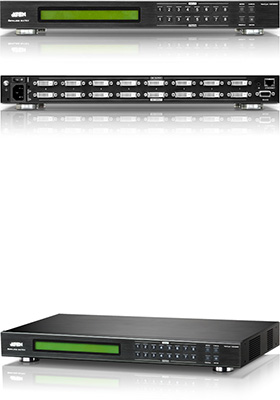 Buy this item and earn 3,347

Club

Points.
8x8 DVI scaling matrix switch and video wall
with fast switching
---
While HDMI-compliant devices are becoming more popular, the majority of traffic control centers and other large-scale, centralized control rooms still rely on DVI display devices.
In order to avoid signal instability, quality deterioration and other factors associated with interface converters, ATEN created the VM5808D: A seamless matrix switch for DVI signals that offers an easy and affordable way to route any of 8 DVI video sources to any of 8 DVI displays.
VM5808D includes seamless switching that employs an FPGA matrix architecture to ensure continuous video streaming, real-time control and stable signal transmission. With a built-in high-performance scaler, VM5808D easily converts various input resolutions into a array of output resolutions, giving viewers the best image quality across all displays. The switch also integrates video wall functionality with an easy-to-use web GUI that lets you create 16 connection profiles for convenient layout customization.
VM5808D is the ideal solution for any control center streaming multiple sources to multiple displays.
Smooth and Seamless Viewing Experience
VM5808D's built-in FPGA design unifies video formats and provides continuous video streams, real-time switching and stable signal transmissions. It is capable of high-speed switching between all input/output ports – supporting TMDS high data transfer rates of up to 1080p / 1920x1200 @ 60Hz to minimize latency.
Video Wall
VM5808D is equipped with video wall functionality integrated through an easy to use web GUI. The video wall setup provides up to 16 connection profiles that you can customize into layouts using a simple point and click web interface. Video walls allow you to setup multiple displays that are configured to form and show video as a single large screen in various layouts to "see what you want, how you want".
Features and Benefits
• 8x8 DVI I/O connections
• Configuration and control via pushbuttons / IR remote control
• System operation via bi-directional RS-232 serial controller / browser graphical user interface (GUI) / telnet
• Extends IR transmission via IR extension cable
• Built-in scaler on each output port converts input resolutions into the display's native resolution, supports scaling 1920x1200 resolutions up or down
• Seamless Switch™ – ATEN FPGA design unifies video formats to provide continuous video streams, real-time switching and stable signal transmissions
• Video wall – features up to 8 video wall profiles for custom screen layouts via point-n-click web GUI
• EDID Expert – configures optimum EDID settings for smooth power-up, high-quality display and use of the best resolution across different screen
• Firmware upgradeable
• Rack mountable (1U design)
Package Contents
1x VM5808D 8x8 DVI Matrix Switch with Scaler
1x Power Cord
1x IR Remote Control
1x IR Receiver
1x Mounting Kit
1x User Instructions