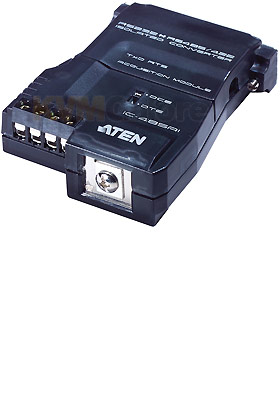 Buy this item and earn 104

Club

Points.
RS-232 to RS-422/RS-485 bidirectional converter
with signal and power isolation, featuring transfer speeds up to 115 Kbps
---
ATEN's Isolated Converter (IC485AI) is a bidirectional converter that transparently converts RS-232 signals to RS-422/RS-485 signals (and vice versa), thus permitting the creation of reliable long distance communication system using standard computer hardware. The IC485AI provides point-to-point, multi-drop, and simplex operations over 4000 feet.
Designed with built-in optocouplers for exceptional signal isolation, plus transformers for excellent power isolation, this extremely reliable isolated converter enhances the quality of the data communication. At the same time, it protects your equipment from electrical surges of up to 2000 volts.
Applications
• Entrance control and security management
• Manufacturing automation
• Industrial and process control systems
• Hospital/laboratory/building automation
Features and Benefits
• Automatic internal RS-485 bus supervision
• No external flow control signals for RS-485 required
• Transient suppression on RS-485 data lines
• Data transimission controlled by the RTS signal
• LEDs for easy status monitoring
• DCE/DTE selectable
• Point-to-point, multi drop, and simplex/duplex link selectable
• Four wires (full duplex)/two wires (half duplex)
• Supports up to 32 receivers to be set in multidrop installations
• Extends up to 4000 feet (1200 meters) through networking cables
• Supports transfer speeds of up to 115.2 Kbps
• Maximum 2000V isolation protection
• Compact size
Package Content
1x IC485AI bi-directional isolated converter
1x Power adapter
1x User manual
1x Warranty registration card