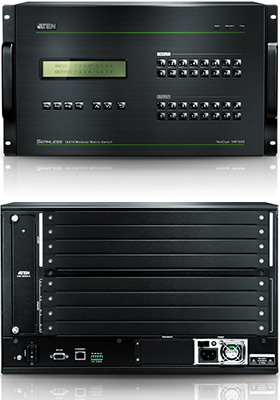 Buy this item and earn 5,349

Club

Points.
16x16 modular digital matrix A/V switch (chassis)
VM1600 modular digital matrix switch offers advanced access and real-time control of multiple local and remote A/V input devices and displays from a single chassis. VM1600 allows users to independently switch and route video and/or audio content directly to various monitors, displays, projectors and/or speakers simply by pressing front panel push-buttons.
A built-in scaler encodes the video format in order to provide seamless, real-time switching.
The front panel LCD shows a quick view of active port connections, with an option to select an EDID mode that yields the best resolution across different monitors.
VM1600 is easily expandable and accommodates a lineup of hot-swappable ATEN I/O boards. Equipped with automatic signal conversion, it allows any combination of digital video formats, such as DVI (VM7604/VM8604) and HDMI (VM7804/VM8804), thus making it ideal for large-scale A/V applications such as broadcasting stations, traffic and transportation-related control rooms, emergency service centers and any application that requires customizable high speed A/V signal routing.
VM1600 offers real-time control and advanced access to manage up to 16 video sources and 16 displays simultaneously, through modular I/O boards in a single chassis. Empowered by ATEN Seamless Switch™ technology, the matrix switch, incorporating a speed-progressive video switching function and a unique scaler, integrates seamlessly with video wall systems - to project live video with precision in any dimension on a perfect timeline.
The installation is fully expandable with modular I/O boards that provide plug-n-play connectivity with an extensive portfolio of analogue and digital A/V equipment. The modular I/O boards are hot-pluggable for any occasion that requires quick replacement of A/V connections without shutting down any existing service.
Video Wall Integration with Scaler
Built into VM1600 is a high-powered video wall processor. With a state-of-the-art processor, VM1600 easily manages multiple wall configurations such as a 4x4 or 3x3 plus a 2x2, or four 2x2's. With a simple GUI interface for the user to customize the audio/video wall outputs, VM1600 provides high flexibility for multiple applications from one box. A unique scaler utilizing ATEN FPGA technology is built in VM1600 to unify various video input signals and render optimum output resolutions on displays with uncompromised precision. Through an intuitive web GUI, up to 32 video wall profiles can be created with custom screen layouts, viable in a wide range of pro-A/V applications.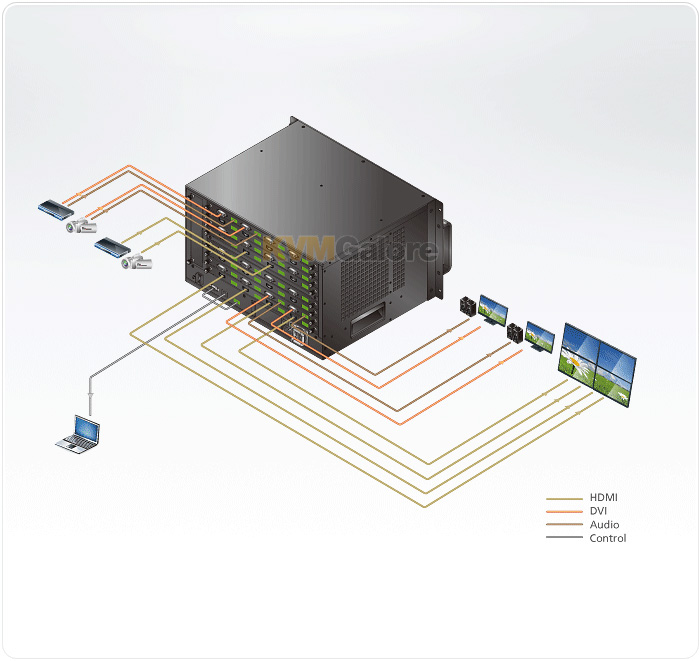 Integrated Control Mechanism
VM1600 features an all-in-one control mechanism that integrates video wall processing and matrix switching capability in a single chassis. This new approach not only simplifies installation with streamlined management, but contributes to overall system reliability.
Seamless Switch™
ATEN Seamless Switch™ technology features instantaneous video switching to deliver Full HD video powered by an exclusive seamless engine implemented at each output port. This high-performance engine processes A/V signals by executing EDID and HDCP handshakes simultaneously at both source and display ends, scaling inputs for the best output resolution while setting the output clock timing, and using a frame buffer to retain input signal information for the fastest output.
Installation of Hot-pluggable Components
The modular matrix switch solution, encompassing hot-pluggable I/O boards, allows video sources of any interface type to be routed independently to target displays of any interface, making it easy and flexible to cross play video in any matrix.
High-Availability System
VM1600 is equipped with a spare slot for a redundant power module, in case of an unexpected power outage. This prevents single points of failure from experiencing system downtime, keeping the system highly available at all times without interrupting any existing services.
Features and Benefits
• Connects any of 16 video sources to any of 16 displays in combination with ATEN modular matrix solutions
• Superior video quality - HDTV resolutions of 480p, 720p, 1080i and 1080p (1920x1080); VGA, SVGA, XGA, SXGA and WUXGA (1920x1200)
• HDCP 1.4 compatible
• Seamless Switch™ - provides continuous video streams, real-time switching and stable signal transmission*
• EDID Expert - selects optimum EDID settings for smooth power-up and highest quality display
• Built-in EDID wizard - provides an easy way to customized EDID settings
• Easily switch between multiple sources and multiple displays
• Hardware configuration: • Front panel pushbuttons • RS-232 serial port
• System operation: • Browser-based Graphical User Interface (GUI) • Telnet
• Built-in bi-directional RS-232 serial remote port for high-end system control
• Hot-pluggable: • Modular fan design • Power module • Easy intergration of I/O boards
• Video wall - provides up to 32 connection profiles that you can customize into layouts using the web GUI
• Optional redundant power supply for continuous operation
• Firmware upgradeable via web
• Rack mountable
• Built-in scaler on each output port to support the scaling function for different video resolutions
Package Contents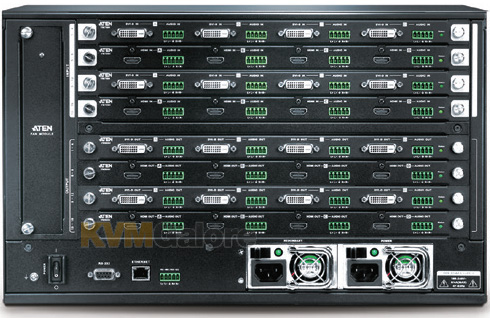 1x VM1600 modular matrix switch (chassis)
1x Power Cord
1x Terminal Block connector
1x Fan Module (pluggable)
1x Power Module (pluggable)
1x User Instructions
Available Modular Input/Output Cards (purchased separately - see below)
• VM8804 - 4-port HDMI output card
• VM7804 - 4-port HDMI input card
• VM8604 - 4-port DVI output card
• VM7604 - 4-port DVI input card
• VM7104 - 4-port VGA input card
• VM7404 - 4-port SDI input card
• VM7514 - 4-port HDBaseT input card
• VM8514 - 4-port HDBaseT output card
• VM-FAN60 - Fan module
• VM-PWR400-A - Modular power supply
* Note: If Seamless Switch is enabled, the video output will not display 3D, Deep Color or interlace (i.e., 1080i) resolution features. To availl of these features, you must disable Seamless Switch.