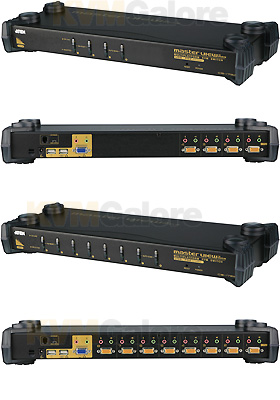 4- and 8-port USB KVMA switches with audio and multi-platform support
with video resolution up to 2048x1536, built-in autoscan and on-screen display (OSD)
---
ATEN's USB Master View Max KVM switches are the ideal tool to help reduce redundant hardware. Multiple monitors, mice and keyboards are simply too expensive, bulky and inconvenient for most system administrators. Why bother when you can control all 4 or 8, or even up to 512 computers with a single keyboard, monitor and mouse? The added audio support allows you to enjoy music while working.
The Master View Max switches are much more than simple four and eight-port KVM switches. The dual interface support allows you to connect both PS/2 and USB computers on the same switch. The multi-platform support allows you to control Windows-based computers, Sun Solaris systems, Linux, or even Macs by a single KVM switch. ATEN extended the multi-platform support by supporting the special keys on both Sun and Mac keyboards.
These KVM switches also comes with the ATEN VSE technology, which provides excellent video resolution - up to 2048 x 1536. Built-in AutoScan mode lets you conveniently monitor every attached computer for a specified amount of time, while ATEN's On Screen Display (OSD) technology allows you to assign a unique name to each computer and access it via a smooth menu-driven interface.
With its 1U, 19" rack-mountable casing and status-monitoring LEDs, the Master View Max switches are the perfect solution for your server room or any other multi-computer environment.
CS1754: 4-ports
CS1758: 8-ports
CS1758KIT: 8-ports, with cables