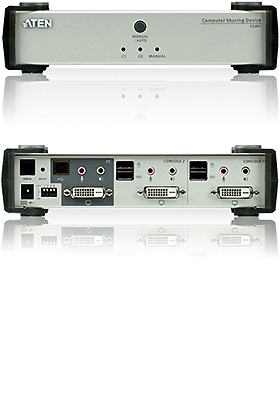 Buy this item and earn 332

Club

Points.
Two-user (2-port), single-tasking USB-DVI computer sharing device
CS261 is a powerful, micro-processor controlled computer sharing device. It is a multi-user/single-task device that enables two users to share the use of a computer from two consoles (DVI monitor, USB keyboard, USB mouse, speakers and microphone).
CS261 is ideal for small office environments. All programs, files and resources on the connected computer can be accessed and shared by the two users without the complexity and expense of setting up a network. Users operate the computer on a one by one basis with an optional security feature that can block the video and audio of the console that is not in use.
CS261 provides a convenient OSD (On Screen Display) menu that allows both consoles to quickly access the connected computer by means of a simple user interface.
Setup is fast and easy; plugging cables into their appropriate ports is all that is entailed. There is no software to configure, so there is no need to get involved in complex software installation routines or be concerned with incompatibility problems.
Because the CS261 intercepts keyboard input directly, it works on any hardware platform and with all operating systems.
Responding to the growing use of audio input/output in the workstation space, the CS261 has been designed with built in microphone and speaker support, as well.
Exclusive Console Modes
• Auto: Computer access switches to a console on a first come first serve basis
• Manual: Computer access switches to a console using the front panel pushbutton or a hotkey
Features and Benefits
• Expand control of a DVI computer with (one at a time) shared access between two user consoles
• Superior video quality – supports resolutions up to 1080p, 1920x1200, and 4K @ 30 Hz*
• Supports 2.1 channel stereo sound and high definition audio**
• HDCP Compliant – supports HDCP-enabled devices
• EDID Expert™ – selects optimum EDID settings for smooth power up, high-quality display and use of the best resolution across different monitors
• Supports RS-232 serial commands to switch operation and configure settings
• Screen Saver Feature – blocks the console's display after a period of inactivity
• Mac/Sun keyboard emulation: consoles can use PC keyboards while working on Macintosh/Sun platforms***
• Multilingual Keyboard Mapping – supports English, Japanese, French and German keyboards
• Multiplatform Support: Windows, Linux, Mac or Sun
• Upgradeable firmware to stay current with updates
• No Software Required – eliminates incompatibility and installation issues and the need to configure software
Package Contents
1x DVI Computer Sharing Device
1x Custom KVM Cable Set
1x Power Adapter
1x User Instructions
* 4K @ 30 Hz is supported when using a DVI to HDMI cable.
** High definition audio can be converted using a DVI to HDMI cable.
*** PC keyboard combinations emulate Mac/Sun keyboards.