Single port (DisplayPort, DVI or VGA) KVM over IP gateways
with virtual media and optional power switching and serial control
---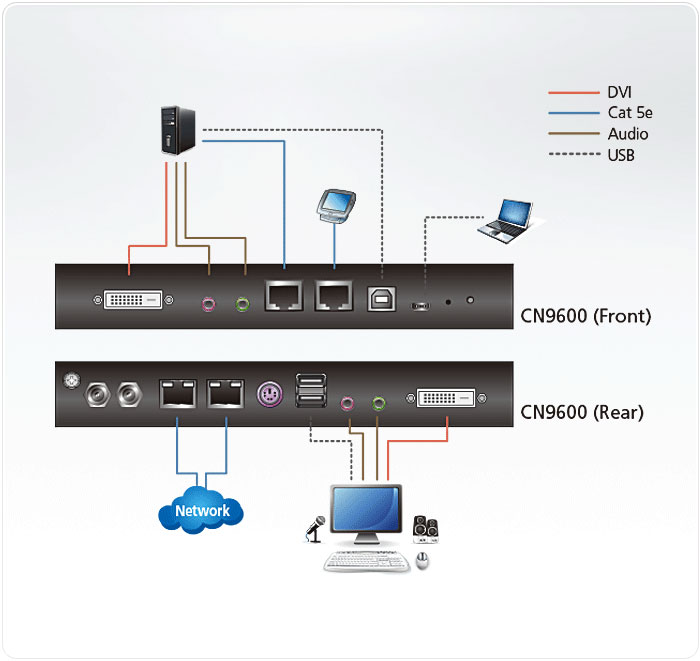 ATEN's KVM on the NET are IP-implemented KVM solutions that allow network administrators to access computers from any station connected to the network, whether from the LAN, WAN, or the Internet.
Network administrators can enjoy freedom from being bound to the server room; work from anywhere in the office, remote locations, or even from home! You can remotely access attached KVM switches, allowing remote control of the attached servers to perform many tasks with ease and speed, such as installing and running GUI applications, routine monitoring, BIOS level troubleshooting, system maintenance, system administration, and rebooting. They support 10 Base-T, 100Base-T, TCP/IP, and HTTP.
ATEN's KVM on the NET provide 3-level password protection, advanced encryption technologies, sophisticated user filters and user management, stealth mode and automatic lockout to make sure that remote access is secure.
With ATEN's patented video comparison technology, ATEN's KVM on the NET provide true high resolution (up to 1920x1200 @ 60Hz) video quality and accurate mouse movement.
CN8000A: VGA, USB or PS/2 connections; power control; 1920x1200 @ 60Hz
CN8600: DVI, USB connections; dual LAN/dual power; 1920x1200 @ 60Hz
CN9000: VGA, USB or PS/2 connections; environment monitoring; power control; dual LAN/dual power; 1920x1200 @ 60Hz
CN9600: DVI, USB connections; power control; serial control; dual LAN/dual power; 1920x1200 @ 60Hz
CN9950: DisplayPort, USB connections; power control; serial control; dual LAN/dual power; 4K DCI (4096x2160 @ 30Hz)
KN1000A: VGA, USB or PS/2 connections; power control; 1920x1200 @ 60Hz