Buy this item and earn 52

Club

Points.
USB-C multiport mini dock
• USB Type-C docking port
• Connects a USB-C or Thunderbolt™ 3 computer to an HDMI/VGA, Ethernet and USB Type-A port via single cable
• Supports HDMI 1.4b with 4K (3840x2160 @ 30Hz) resolutions; or VGA with 2K (2048x1152 @ 60Hz) resolutions
• Lightweight design - for easy transport
Expansion Ports
1x USB Type-A (USB 3.1 Gen1)
1x HDMI
1x VGA
1x RJ45 (wired Gigabit Ethernet)
UH3232 USB-C multiport mini dock connects a USB-C computer to an Ethernet, HDMI, VGA and USB Type-A port through a single built-in USB-C cable.
UH3232 4 in 1 adapter features an integrated and easy-to-use connector that instantly links your USB-C or Thunderbolt™ 3 computer to an HDMI 4K Ultra-HD (3840x2160 @ 30Hz) or VGA 2K (2048x1152 @ 60Hz) video output, USB 3.1 Gen 1 port, and Gigabit Ethernet port for fast desktop docking.
The 6-layer PCBA design reduces signal distortion and interference for uninterrupted video that is always crisp and sharp, while the Gigabit Ethernet port delivers Internet speeds up to 1000 Mbps.
UH3232 plugs directly into the USB-C port and does not require any software installation.
A built-in billboard feature actively communicates with the connected computer to ensure seamless compatibility with connected devices. This means that when UH3232 is connected to a computer and a device with an incompatible alternate mode is connected, it alerts you with support details, instead of failing in silence.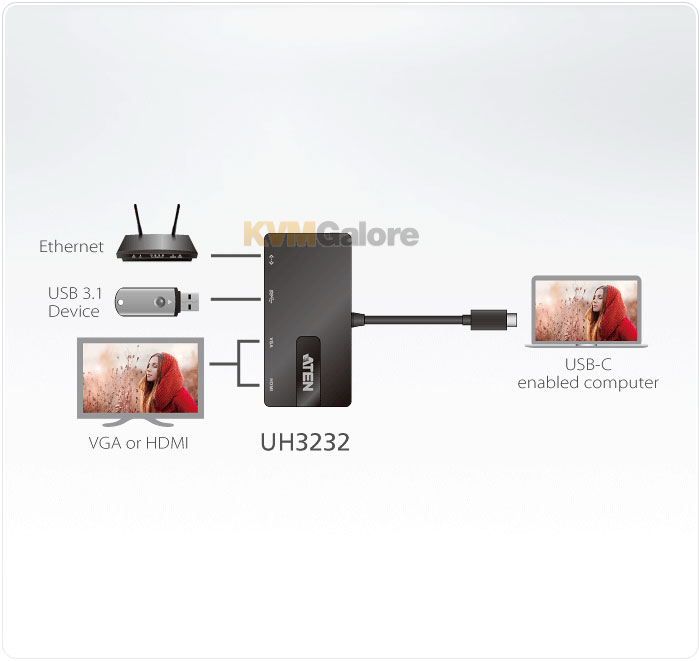 UH3232 USB-C multiport mini dock is ideal for displaying video content on HDMI or VGA monitors at work, school or home. It allows you to add an additional monitor for enhanced multitasking, gaming and viewing of movies or photos in high definition. The lightweight compact design is perfect as a portable companion for your USB-C enabled device to dock anywhere.
This small, portable, and travel friendly dock gives you more desktop space wherever you are and makes connecting to multiple devices easy. This convenient and versatile dock offers a perfect portable solution for connecting multiple sources to a USB-C enabled computer - quickly. With ATEN's UH3232, you can travel lighter, connect faster and work more effective, anywhere.
Features and Benefits
• Connects a USB-C or Thunderbolt™ 3 computer to an HDMI/VGA, Ethernet and USB Type-A port via single cable
• USB 3.1 Gen 1 port with data transfer rates up to 5 Gbps
• Ethernet Gigabit LAN port
• Supports HDMI 1.4b with 4K (3840x2160 @ 30Hz) resolutions; or VGA with 2K (2048x1152 @ 60Hz) resolutions
• Supports Windows 10 (32-bit / 64-bit), Mac OSX Yosemite 10.10.5 and higher, OS X El Capitan 10.11 and higher
• Lightweight design - for easy transport
Package Contents
1x UH3232 USB-C multiport mini dock
1x User Instructions