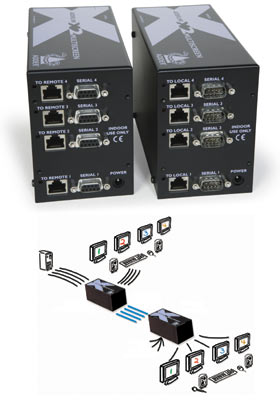 Buy this item and earn 2,155

Club

Points.
X2-MS4: PS/2 KVM, audio, four (4) serial and four (4) VGA video extension
to control a multi-video-head PC over 1000 feet of UTP cable
---
AdderLink X2 MultiScreen extends four very high quality VGA video signals, together with PS/2 keyboard and mouse signals, four transparent, full speed RS232 signals and high quality audio up to 1000 feet over Category 5 or higher twisted pair cable.
In addition to this functionality, AdderLink X2 MultiScreen provides a local feed through port for control of computer at the local computer end. Based on the technology of the hugely successful AdderLink X2 Gold, the AdderLink X2 MultiScreen provides industry-leading rack densities and is a modular and flexible solution.
Multiple video extension can be used in a wide variety of scenarios where it is either inhospitable or impractical to place both the machine and control console in the same place. AdderLink X2 MultiScreen is ideal for use in industrial process and control room environments, financial dealing rooms, emergency services control rooms, broadcast production studios, security environments or any multiple touch screen applications.
It is often desirable in multi screen applications for administrators to configure or monitor the computer locally. AdderLink X2 MultiScreen provides local access in order that configuration does not have to be carried out remotely or require the unplugging and plugging in of local screens, keyboard and mice.
Industry leading video resolutions of 1600 x 1200 are achievable at 650 feet and 1280 x 1024 at 1000 feet. AdderLink X2 MultiScreen applies a high level of signal compensation that allows for a greatly increased range of very smooth and fine adjustments. AdderLink X2 MultiScreen also offers its own brightness correction to ensure that the image is crisp, clear and bright, regardless of the distance and is individually selectable per video head.
AdderLink X2 MultiScreen's state of the art 300MHz DeSkew circuits compensate for any skew effects that may be introduced by long CATx cables. DDC circuits are also fitted to enable the computer to query the monitors so that the video cards can be optimally configured. Without this circuitry, some well-known high performance video cards cannot be used at high resolutions.
AdderLink X2 MultiScreen units ensure that the transmitter and receiver clocks are synchronised to ensure that no audio is ever lost or added, thus preventing annoying audio clicks.
Features and Benefits
• Extends PS/2 keyboard, PS/2 mouse, audio, 4 VGA video and 4 RS232 across CATx cable
• Extra fine video quality at a resolution of up to 1600 x 1200 at 650 feet, 1280 x 1024 at 1000 feet
• Integrated state of the art 300MHz DeSkew circuit per video head
• Digital audio transmission delivers high fidelity, click less stereo audio for speakers and microphones
• Advanced spike suppression circuits for reliability in 'noisy' installations
• Supports automatic and fine user-adjustable video compensation
• Fully transparent RS232 interface enables a wide range of serial devices to be connected
• LEDs show the status of connected devices
• Use stand alone or rackmount multiple modules in 2U chassis
• Operation is software independent so the X2-MultiScreen may be used with all common operating systems including DOS; Windows 3.x, 95, 98, NT, 2000, ME, XP; NetWare; Linux; OS/2 etc.
Package contents
• X2 MultiScreen Quad-Video Local (computer-end) unit
• X2 MultiScreen Quad-Video Remote (KVM console-end) unit
• 1 x 6-feet long computer interface cable for keyboard, mouse, audio and first video connection
• 1 x 6-feet video cable blue 15-pin high-density D-type female connectors
• 1 x computer serial interface cable
• IEC style power supply and power cord
• Safety and installation leaflet
• CD manual
• Stick on rubber feet
• X-Chassis fixing plate with screws