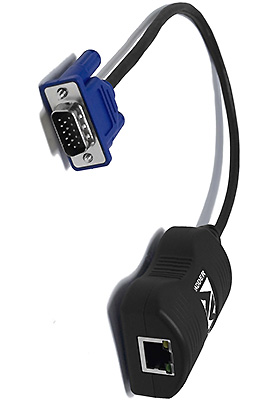 Buy this item and earn 99

Club

Points.
ALPV150R: Line powered video (LPV) receiver for point-to-multipoint video transmissions
Note: Transmitter units are purchased separately
AdderLink LPV delivers HD quality digital signage video via CATx cable over distances of 500 feet (150 meters).
This digital signage splitter/extender is possibly the easiest to install point-to-multipoint splitter/extender available today.
By transmitting the power to the receiver via the cable it removes the need for extra power supplies and sockets at the screen.
AdderLink LPV 4-Port Transmitter (sold separately) is able to take the same HD input and send it to 4 different screens connected via the ALPV150R receivers.
Choosing your Signage Technology
There are many types of signage technology available on the market, from small players which sit alongside the screen to streaming MPEG around large bandwidth networks. Adder's solution is based upon reliability, quality and simplicity. The three qualities most requested by professional users.
Delivery of content over CATx cable is by far the simplest and the safest way to deliver your message, requiring minimal disruption to install. CATx cable can be routed invisibly to your screens.
Line extension solutions simply allow you everything to keep tidy and easy to use by locating the computer almost anywhere you like.
Video Performance
Full HD 1080p, 1080i and 720p with distance up to 150 meters / 500 feet.
Video sharpness adjustment
AdderLink LPV Receiver has a video adjustment screw to control picture sharpness on the display screen.
Absolute simplicity
Getting into professional digital signage has never been so easy. Simply plug the transmitter's VGA port into your computer and plug in the power supply, then plug up to 4 receivers unit into your screen(s). Finally, connect the two units together with a length of CATx cable, and you're finished. Now start delivering your message to customers, clients, staff or whoever you wish.
Advanced EDID cloning
The ADDERLink LPV enables the user to clone the EDID (Extended Display Identification Data) from a display or use a default EDID. This approach enables the widest possible compatibility whilst also providing a plug and play experience for most applications.
Fit and forget
Adder digital signage products are the professional choice because they give you the ability to deliver, fit and forget installations. The LPV is no exception.